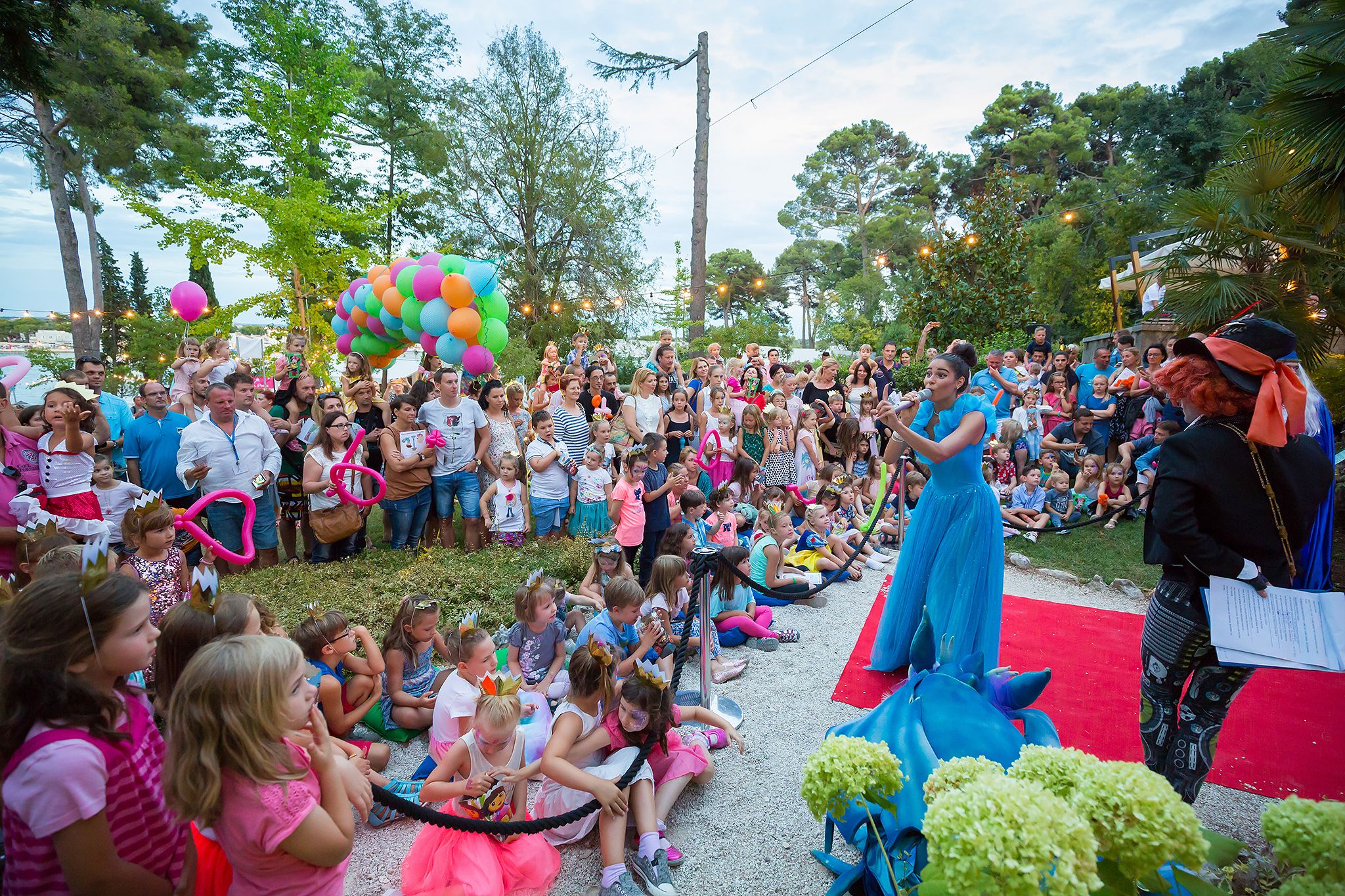 [vc_cta h2="Basic Event Information"]
Date:
1.7. – 15.9.
Location:
Poreč – streets and squares, old town core and Sveti Nikola Island
Organizer:
MPG d.o.o.
Client:
Valamar Riviera d.d.
Event type:
Cultural/gastronomical event
EVENT CATEGORY: CATEGORY B2C[/vc_cta][vc_video link="https://youtu.be/VevLB9zKC7E" el_width="50″ align="center"]
[vc_custom_heading text="Event description and key objectives" font_container="tag:h2|text_align:center" use_theme_fonts="yes"]
The festivals motto is to celebrate life and little moments that come with it. Valamar Riviera hotel group has turned its vision "to provide each guest with memories for a lifetime" into a reality by becoming the initiator, partner and main sponsor of Poreč Open Air Festival. The festival program consists of 4 festival categories; The Street Music program has been greeting guests with music at many different corners throughout the city. Street Performances offer a range of events so that everyone may find something to enjoy. Circus in the City turns the entire city into a giant open-air circus. The streets are teeming with jugglers, stilt walkers, acrobats and fire-eaters. As a part of the Princess Ball program, you can enter into a fairy-tale world of animated characters. As part of the Cinema and Theatre program, all cinemagoers can enjoy the Open Air Cinema program offering films in a range of genres every day. Sundays are reserved for the interactive edutainment program Istra InSpirit – a performance for the whole family that presents Istria in a different way, from myths and legends to gastronomy. The Special Events category started with the Opening concert, with Vatra & Pavel, and continued week after week, where Poreč was entertained by tribute bands of famous rock legends such as: Queen, RHCP, U2, Coldplay and Bon Jovi. The closing of the festival is marked with gastro event, Tunalicious Street Food Festival. It was accompanied by Offshore World Challenge.
[vc_custom_heading text="Key challenges" font_container="tag:h2|text_align:center" use_theme_fonts="yes"]
The key challenge was to create programmes that will be interesting and attractive enough for citizens of Poreč town, but also tourists, targeting all ages and different interests. The aim was to target families with children, young couples, older couples by offering different entertainment programmes throght the city. Having a rich program every day of the week during eight weeks was a challenge as well, despite the fact the rotation of festival visitors was big, due to average stay of 7 days in the destination. Also, for the programes taking place on Sveti Nikola Island, due to high demand, we had to include online reservations at some point and it had to be communicated clearly enough so everyone would be aware of it in time. For the festival locations, the organizational part was to find new and interesting locations that could take in new programes and offer more to the festival.
[vc_text_separator title="Event results" color="orange" border_width="5″]
[vc_video link="https://youtu.be/jVmFh6Tt3Ug"]
[vc_custom_heading text="Creativity" font_container="tag:h2|text_align:center" use_theme_fonts="yes"]
Poreč Open Air is a unique festival in Croatia that lasts all summer long. It is special for the creative synergy of different artists taking part in the festival program, as well as in mixing different genres in one complete and successful story. Creativity is a part of our everyday work, when creating the festival program, all the festival production elements and different give aways. There is a different main topic every year when presenting the Princess Ball event – and it is visible inside the show, throughout the promo material and various entertainment corners.
[vc_custom_heading text="Innovation" font_container="tag:h2|text_align:center" use_theme_fonts="yes"]
Poreč Open Air is a unique festival in Croatia that lasts all summer long. Its uniqueness is manifested in the creative blend of different programs and content intended for each age group. An essential component of the festival is certainly education, which is most pronounced in the program of Istra Inspirit. Every year we try to refresh the program and introduce some innovations to bring the festival to a new level and to provide guests with an even better experience of staying at the destination and the visitors who have seen each program offer some new elements. Innovation are seen also in the promotional materials we are producing for the festival so each year we bring something new to the table – i.e. include more festival elements and "live" objects in the standard expected branding frame. For the program innovations, we work closely with the local community in creating the festival program and bringing new talented artists on stage. Hereby we mean musical talents as well as culinary ones.
[vc_video link="https://youtu.be/D7hJdRV02PA"]
[vc_video link="https://youtu.be/P_QQtvFj-Ko"]
[vc_custom_heading text="Execution" font_container="tag:h2|text_align:center" use_theme_fonts="yes"]
For the festival executional part, we work hand in hand with the City of Poreč, who is providing a strong support by offering various city locations for our programs, lending us the big summer stage where Special event programs are taking part. After a full year of project preparations, we work on field execution every day of the summer. For this part, we have a logistics partner, Promo Logistika, a company in charge of production of all our events. Iti s a good collaboration where also Valamar Riviera, as our client is giving us a helping hand on all the matters in town of Poreč.
[vc_custom_heading text="Measurable results" font_container="tag:h2|text_align:center" use_theme_fonts="yes"]
Results in numbers for 2017 are: 60.000+ visitors, 59 festival days, 119 events, 13.000+ fans on Facebook, 16 locations, 130 performers, 135 music hours.
After receiving the prestigious award of the Istrian County Tourist Board, the Golden Goat (Capra d'Oro) in 2016 festivals category, 2017. was once again a very successful year – being in the top 3 finalists for the "Tourist Event of the Year" on Tourism Days in Lošinj.
[vc_video link="https://youtu.be/_VDZqBW_q3w"]
[vc_custom_heading text="Communication" font_container="tag:h2|text_align:center" use_theme_fonts="yes"]
All festival communication tools have been chosen with a purpose to inform a wide range of people of the festival and help in getting a feedback on the festival success. Daily online communication is basically used for service information (location, date, program announcement), while on radio and info mail all interested visitors have shown their interest. Communication goals set have been fullfilled completely which is seen on the big number of visitors at all our events, number of overnight stays in the hotels/campsites, nice coverage on social media: web and fb page, positive feedback of festival visitors and local community and the number of media involved in the festival PR plan. In its second festival year edition, Poreč Open Air festival has had a great success in over 3 months of everyday program – with a coverage of 22 articles in print media, 139 articles on web and 56 social media publications, as well as 8 radio announcements, 266 radio spots, 71 billboard positions and 6 citylight locations. TV has had a good coverage on the festival as well, with 15 publications. All PR has been positive, with the highest share of national media (81%) and good coverage of relevant regional media. Total media coverage net value on the 2017 festival edition has been 792.584,45 EUR.
[vc_custom_heading text="The use of sustainable practices" font_container="tag:h2|text_align:center" use_theme_fonts="yes"]
Our goal was to offer all guests and locals new experiences at this destination, through the content created specifically for Poreč, while respecting the cultural and heritage as well as promoting important elements of the Istrian culture (through music, plays and theater). Simultaneously, the festival through the Street Music program revived forgotten and abandoned city locations. Poreč Open Air has opened, to the public, entrances to some of the city's areas where the local community cannot enter on a regular basis (Villa Polesini and the island of Sveti Nikola) where Princess Ball, Open Air Cinema and Istra Inspirit programs are held. For the local people of Poreč and surroundings we have ensured a free ticket for boat transport to the festival programs on the island of Sveti Nikola, which is regularly charged. Thus, the festival creates a new value for Poreč as a destination, bringing together all the community's stakeholders into the organization, realization and festival implementation. The City of Poreč as well as local tourist boards support the festival financially and communication through their promotional channels (web, Facebook, Instagram). The city of Poreč allowed for different locations through the city available for festival purposes, provided their resources (public toilet, garbage collection, workforce to set up the stage). For the Tunalicious Street Food Festival, over 10 lolocal restaurants have taken part in Tuna Restaurant Week.