Basic Event Information
Date: 12.12.2018.
Location: Belexpocenter/ Belgrade-Serbia
Organizer: M2Communications
Client: Serbian Association of Managers
Event type: Awards Concept/B2B
EVENT CATEGORY: CATEGORY B2B – Best ceremony
---
Event description and key objectives
SAM Gala Evening 2018, a glamourous event organized by the Serbian Association of Managers (SAM) with annual awards for extraordinary achievements in promoting the best business practices and creating a business enabling environment, was held in December 2018 for the seventh consecutive time. 'SAM Annual Awards' were conferred in 12 categories both upon individuals and companies that serve as role models in leadership, corporate social responsibility and business excellence. The 12 categories also include special jury awards for 'Personal Heroic Act', 'Breakthrough of the Year', 'The Initiative of National Importance', etc.
Creativity
A touch of luxury and exclusivity, in the spirit of major international gala events, such as the Academy Awards ceremony, i.e. the Oscars, was achieved thanks to a specially built stage for the event, reflecting an ideal combination of minimalist elegance and high-quality production.
The SAM Gala was opened by an impressive acrobatics and aerial performance on stage performed by the leading ballet dancers of the National Theatre in Belgrade, which was highlighted by perfectly coordinated special effects, lighting effects, the laser show, music and narration, produced exclusively for the gala evening.
Innovation
For 2018 SAM Gala event we had a goal to set new standards and raise the level of the event, using the Academy Awards ceremony as a model. For this event, we prepared an amazing aerial performance, where ballet dancers flew over the audience and interacted with them. This show was performed by the leading ballet dancers of the National Theatre in Belgrade, supported by exclusive music and lights.
Execution
The event was very demanding in terms of stage design and technical preparation.
• Total event area: 2,000 m2
• 2 event zones: cocktail area and main area
• Stage: over 300 m2
• more than 120 moving heads and spotlights
• over 500 m of truss line
• over 60 m2 of LED screens
• more than 30 hours for set-up and rehearsals
• over 80 creative and production minds involved
Measurable results
TV stations that announced and covered the event were Studio B, N1, RTS. The awards ceremony was covered by cameras of RTS, N1, Tanjug and BKTV. The news report from the awards ceremony, along with statements, was first published by N1 TV (10 p.m. news program) and RTS (Dnevnik 3 news program). The event was covered by 102 media reports in total.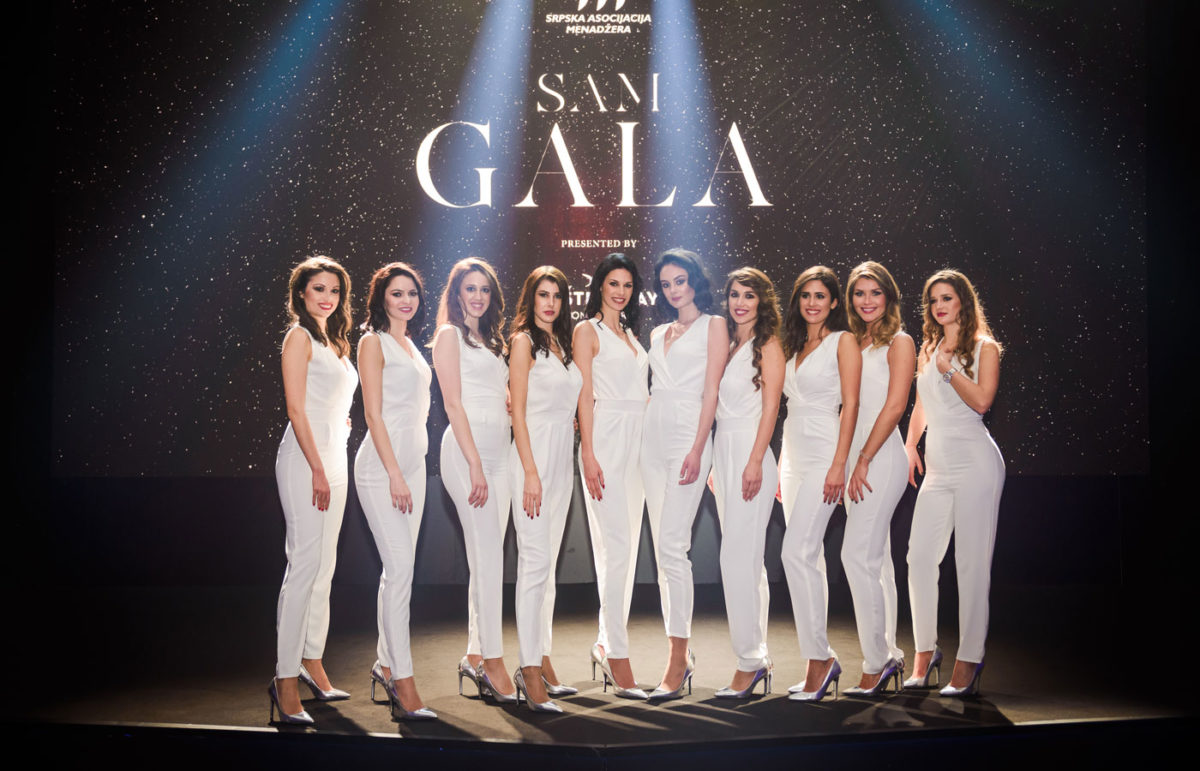 Communication
Announcements on the nominees for the awards, live coverage of the event and content sharing were made via social media, LinkedIn, Facebook and Twitter.
Total no. of likes: 1,800
Total no. of comments: 73
Total no. of posts shared: 40
Lifetime Post Total Reach: 52,767
Lifetime Post Total Impressions: 73,289
Lifetime Engaged Users: 3,410
TWITTER
Posts: 16
Total Impressions: 9,856
Total Engagement: 645
LINKEDIN
Total no. of posts: 13
Total no. of likes: 1,125
Total Impressions: 75,059