Basic Event Information
Date: 20 May 2020
Location: Virtual event / Studio in Hotel Cubo, Ljubljana
Organizer: MPG Plus d.o.o.
Client: Microsoft
Event type: Online conference
EVENT CATEGORY: ONLINE EVENT – ONLINE CONFERENCE
---
Event description and key objectives
When we postponed the 25th NT Conference, planned in May, we decided to go online with a standalone free virtual technological and business event NT Remote on 20th of May 2020. Through relevant content, we empowered attendees in different job positions with useful knowledge to provide flexibility and business continuity in this new reality. The event kept the complexity of live version with its multitrack concept, we also organized 2 studios, where we hosted keynotes and 8 sessions, while other sessions were plugged in live from speaker's homes or offices.
Parallel tracks: 9
Hours of the program: 42
Keynotes: 2
Sessions in total: 35
Business sessions: 15
Technological sessions: 20
Speakers in total: 78
We started the event with 2 keynotes and finished it with a stand-up session to add some relaxed atmosphere. Every attendee received a digital goodie bag with different codes and discounts, through which we created value also for our partners. Pre-registration of the attendees helped us widen our potential attendees' network, through some other different activities we collected many leads also for our client and partners. NT Remote was one of the first events in the region to gather in one virtual place IT experts, specialists and developers, as well as HR and marketing managers, CXOs and business decision-makers. With 6.643 unique views it became the biggest and most complex technological-business virtual event ever in Slovenia and the region.
Key challenges
We decided to go online practically overnight. In less than two months we transformed live event to virtual. We rapidly transformed the organizational plan, adapted and upgraded the content and offered a free virtual technological and business event with an overall positive user experience for attendees and partners. We had to ensure a successful financial structure. As the NT Conference is financed only through sponsorships and attendee fees, which there were none, in this case, we had to attract as many partners as possible. We adjusted the live event sponsorship packages to virtual and offered cooperation through event content, visibility, digital goodie bag, as well as questionnaires and other tools for leads collection. We met several other questions, as to how long should the sessions be, the event itself, what time in a day should the event happen etc. According to questionnaires after the event, we defined those questions successfully:
Preferred time: afternoon, evening
Devoted time, intended for the virtual event: 6 hours
Average time in separate session: 47 minutes
We needed to adapt the content to be as relevant as possible. Working closely with the client and tech community enabled us to offer quality and interesting sessions. And finally, since we were all working from home, the entire coordination was challenging, but if you know your goal, the path you walk through is only a question of your own possibility to adapt and transform.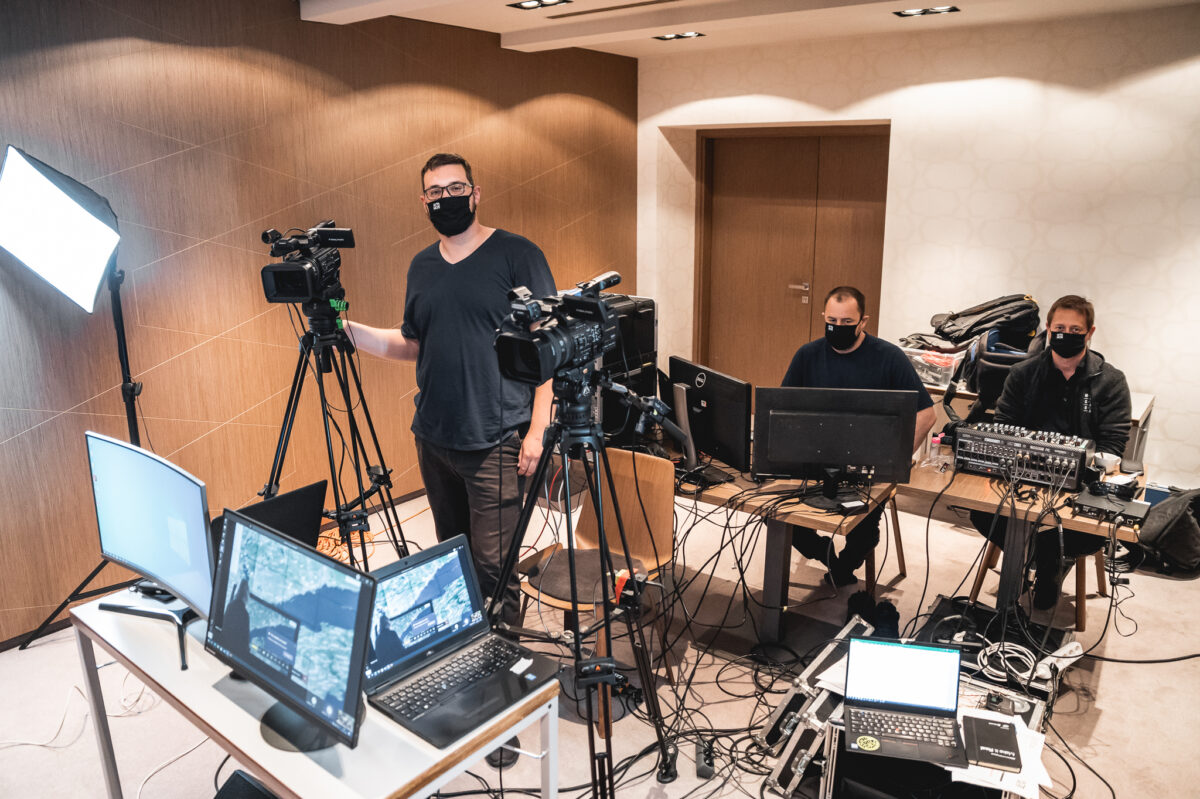 Creativity
Our creative approach based on the target group was to offer a virtual event with relevant content for our diverse audiences in one afternoon. NT Conference has two main target groups, technology professionals and business professionals. Each group is divided into 7 or more subgroups, quite different according to their interest. For instance, business content is divided to the public sector, manufacturing, finances, sales, ERP, HRM, education.
We didn't want to organize several webinars in different days, so we decided to go with a multitrack concept with 9 parallel tracks, which means that the attendees could choose between 9 different sessions at the same time, and easily switch between them. The entire content is still available on the website for everyone to watch. As it's not the same watching the event from home, we tried to create a conference feeling at least through the content. Therefore, we set up two studios to host a few sessions, prepared the opening of the event with two keynotes, gave the audience the possibility to choose between different lectures, and finished the event in a relaxed atmosphere – with a stand-up session.
Instead of a physical NT Conference backpack, the attendees received a digital goodie bag with codes and discounts from our partners. We know our target group very well, so we were able to specify their needs and therefore open new possibilities for sales. We made an e-commerce partnership agreement for the distribution of our partners' products.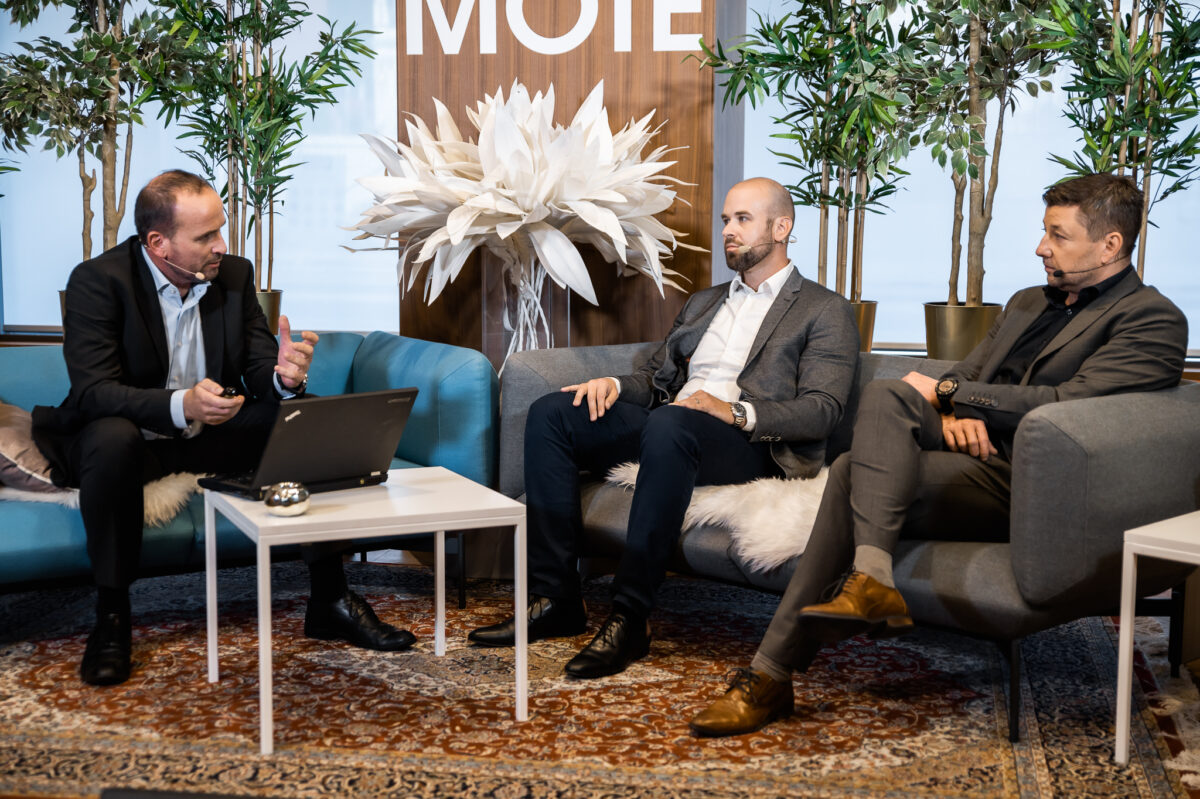 Innovation
When preparing the concept of the event, we had in mind, that we need to give added value to all stakeholders, i.e. the attendees, partners and sponsors, the client, the speakers. All of those activities needed to be coordinated and carefully connected between each other to bring the final success of the event. For instance, added value for our attendees was the digital goodie bag, through which they received several discounts, but it was also added value for our partners, as they generated many quality leads through the entire process. Cooperation with partners was important also from the financial part of the project, which was, just like the NT Conference, self-fundable. As the event was free, the sponsorship agreements were even more important. Therefore, we needed to offer them enough activities to warrant the financial means, invested in our cooperation. Consequently, we had to prepare interesting content to attract enough attendees to generate leads. And so on, every activity is connected and depending on another and only innovative approach enables you to satisfy the needs and demands of all the stakeholders.
Execution
In the middle of March, in our final phase of NT Conference planning, we were faced with a complete lockdown. We decided to transform and adjust everything we were planning, in order to give people useful knowledge to provide flexibility and business continuity. We created a virtual event NT Remote in less than two months in the day-to-day unpredictable epidemiologic situation and security measures. The execution of NT Remote was therefore very quick and full of daily adjustments and compromises.
11 March – New NT conference date is confirmed
13 March – Virus outbreak is characterized as an epidemic, lockdown is officially declared in Slovenia
16 March – NT conference is among one of the first events announcing to be postponed till autumn
26 March – NT Remote is introduced
30 March – Decision is made – Teams Live Events platform will be the tool to use for NT Remote
10 April – Call for Technical speakers closed / 15 technical sessions from top Slovenian MVPs and ex MVPs confirmed
20 April – Business sessions defined
5 May – Website and its relevant content goes live / event registrations open
8 May – Final schedule is set and published on website
10 May – Last NT partner contract signed; managed to up sale conference to 26 conference partners
15 May – Government gives permission for gatherings with 50 people / preparation of two studios and required safety procedures started
20 May – NT Remote goes live with 78 speakers, 35 sessions and 42 hours of active program
Measurable results
For us it was for the first time to be working on a project like this, besides, not many similar events happened in our region, so we had more questions than answers. We wanted to receive as much information as possible from this event to help us with the organization of further similar events. We used Power BI and received many relevant and useful results, that gave us a great insight in the perception of NT Remote. We expected at least 4.000 unique connections, which we not only reached, but exceeded for over 50%:
Registered users: 1.743
Unique session views: 6.634
Monitor, most influential IT media in Slovenia: "Unlike other events, where COVID-19 has totally put entire happening and novelties in the technological world in the shade, Build and NT Remote managed to step out and offer traditional technological topics, and novelties. In an overload of all the pandemic news, those two events were truly refreshing and different."
General satisfaction: 4,7 out of 5
Content satisfaction: 4,6 out of 5
Satisfaction with event organization: 4,8 out of 5
New companies, joining us for the very first time at NT Remote (in 4 years): 38,74%
Companies, participating at live NT Conference, and not participating at NT Remote: 54%
And at the end, we were able to ensure a successful financial structure of the project only through cooperation with our partners. Our past positive cooperation with many companies from different fields resulted in 26 NT Remote partners and sponsors.
Communication
NT Conference is a brand with 25 years of tradition, so cancelation of it was not an option. Even though we postponed it, we found a new way to keep the event alive in May and to offer relevant content, related to specific time we live in. The event is also a benchmark for other event organizations, so we believe that the step towards digitalization was the right decision. Nevertheless, through this event we gained many important leads, and through many discussions with our and our client's partners we discovered their way of thinking, problems, they are dealing with, their plans for the future etc. Besides that, virtual events like NT Remote can reach not only companies and professionals that are visiting a live event in certain time and place, but also others individuals,
that are not able to join it.
According to the current situation worldwide live events as a part of companies' marketing strategies will be stunted for a while and virtual events will take their place in many cases. And those who won't be replaced with virtual events, will surely be completed with. All the knowledge and experiences we gained with this project will surely help us with the organization of any other future event. Not only us as an agency, but entire event industry will be able to take those practices for their easier business continuity. NT Remote therefore opened many new business opportunities, as well as several new ideas for the future, we are looking forward to jump into.
The use of sustainable practices
Sustainability is much easier to achieve with the virtual event in comparison to live. We could say that the word 'virtual' is sustainable for itself and very similar to our conference's concept of digital transformation in general – to keep all the information in cloud, available and accessible to everyone anytime anywhere. Our client Microsoft has very specific values and we believe that with this event we moved closer to them more than ever before. To empower people with knowledge – not only ones who are able to visit NT Conference, but everyone, who would like to educate and develop new skills or follow the latest IT and business trends. Namely, the event was free and all the sessions are still available on the website. That enables people to listen to entire content of the event, as well as to refresh their knowledge anytime. But above all, by organizing a virtual event we kept everybody home and safe in order to protect their health and health of people, close to them.