Basic Event Information
Date: September 3rd 2019
Location: Belgrade, Serbia
Organizer: DMC VEKOL
Client: STADA Arzneimittel AG
Event type: Annual global leadership meeting
EVENT CATEGORY: B2B | Best Corporate Convention
---
Event description and key objectives
In September 2019 DMC Vekol team got entrusted with taking care of the worldwide management of one of the leading pharma & healthcare giants on the global market, including their respected and ultra-demanding CEO, Mr. Peter Goldschmidt and board of directors.
For what will turn out to be one of the most prominent events in Belgrade of the year 2019, we staged a unique river experience followed by an audiovisual spectacle for 150 delegates coming from 29 countries that lasted for over more than 16 hours straight!
The much needed touch of luxury and glamour – in the spirit of young Hollywood gala events – was easily achieved by hosting the daytime conference on a vibrating boathouse offering a spectacular view on the Danube and Sava confluence and a premium gala at Serbian Royal Court – Belgrade's open-air museum, reflecting an ideal combination of history, elegance and haute interior design.
But let us gently walk you through the process…
Key challenges
"You only have one chance to make the right first impression" – literally. The greatest challenge for DMC Vekol was blending the entire experience for 150 city newcomers into a one single day, familiarizing them with an unknown destination at the same time providing an intense and non-ending fusion of fun, entertainment and a big cup of learning.
Also, one of the challenges came very early in the bidding process, when it simply turned out: Serbia is (still) nobody's usual suspect when thinking about premium destinations for high-profile events such as global leadership meetings. During the uneasy past, the country has lived to be in the spotlight of world's attention and concern a few times too many, making it hard to win trust and sympathy of travel agents and companies. Thus, it did take a lot of convincing, but eventually DMC Vekol team managed to be perceived as more than capable to execute a premium event start to finish. Budget-wise approach also helped: "We pitched a program in Belgrade against a couple of other destinations and found we could do so many more worthwhile things in Belgrade because the budget went so much further" – putting it into words by Peter Goldschmidt, the CEO.
So after a full year of heavy negotiating, followed by a couple of intense months of hard-work, STADA Global Leadership Meeting 2019 – aimed to bring together pharma professionals from all over the world in order to share some insights on a diverse range of topics – finally rolled-up in Belgrade!
Creativity
Coffee break on a brand new Monterey? Sure.
Few other experiences in Belgrade match the full splendor of a stunning cityscape view while chilling on the riverbanks of Danube and Sava – the heart and soul of Southeastern Europe. A global leadership meeting deserves more than a stuffy hotel ballroom or a multifunctional hall – this is why we decided to bring the conference outdoors to a three-storied boathouse! A complete makeover of the venue included 3 full days of floor-to-ceiling adjustments, 11 vans of AV equipment including 150 VR pieces for all participating delegates and installation of a 200ft long pontoon bridge able to fit 20 brand new Sea Ray and Monterey speed boats for a unique coffee break experience.
Since the tight agenda left little to none time for any city sightseeing, we made sure delegates don't board their planes without getting a proper impression of a place they are likely seeing for the first time. While having their Espresso onboard, all 150 delegates were able to cruise along with Belgrade attractions and landmarks such as the medieval city-fortress "Kalemegdan", the confluence, the Great War Island, Serbian Orthodox Patriarchy, the six socialist Belgrade bridges and of course – "Belgrade Waterfront" – a multi-billion construction investment in the making.
Our Break-Up Letter to 2D Events
Moving on through the day – say goodbye to boring projections and presentations, and hello to 3D spatial augmented reality! Instead of the old déjà vu video story-telling, we decided to go for some story-doing with mind-bending effects to spice up the evening part of our event and make it come alive. Matching STADA corporate values with Serbian all-time celebrities that brought prosperity to mankind, we used all our creative capacities in designing a custom-made 3D projection featuring our homage to the beautiful mind of Nikola Tesla and Serbian all-time favourite tennis star Novak Đoković!
Innovation
RAKIA Connecting People: a brand new engaging concept
If you really want to learn more about the eating and drinking habits of Serbian people, it all gets down to the national drink – the (in)famous RAKIA. The right Rakia cocktail is more than just a drink and we know it! In order to keep the event alive by not only entertaining our pharma delegates but rather engaging them all night long – we designed and launched the concept of RAKIA LAB – bartending professionals with their full gear and chemistry glassware showing the crowd how the perfect combination of scent, color and taste is achieved in making the ultimate Rakia cocktails. Utilizing a broad spectrum of gastronomy, perfumery, music, art and design, this stylish and cool activation point presented only the best and boldest alcohol creations to the delegates. While having their customized sips, delegates were able to find out more about this notorious but enchanting drink – its history, ways to taste it properly, how to recognize good quality Rakia and many more tips and tricks.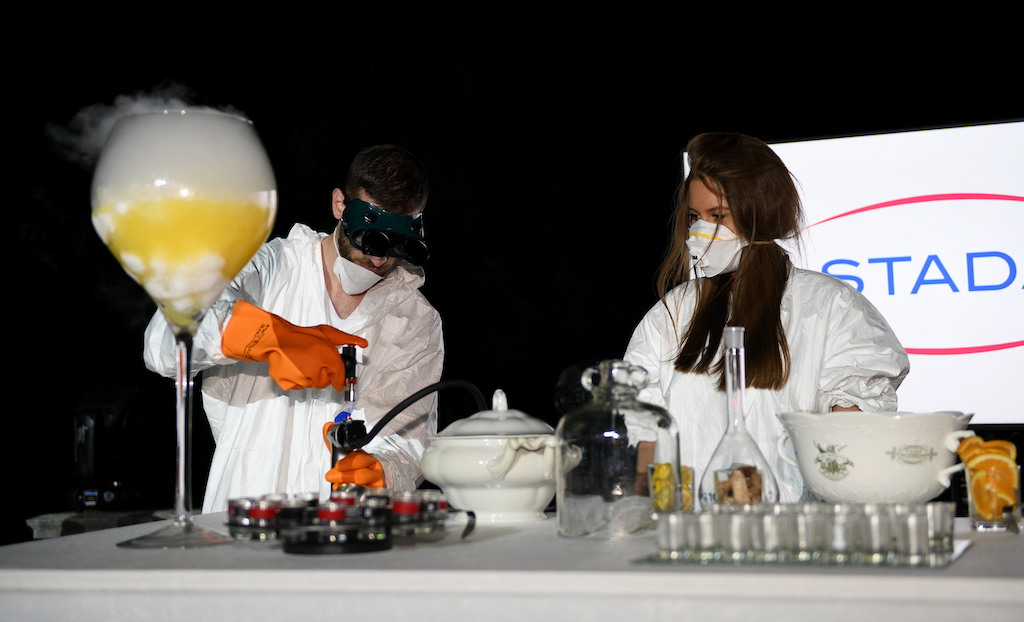 Execution
The final "event architecture" outset?
During 16 hours straight of an intense stay in Belgrade, the 150 lucky delegates were given an injection of adrenaline & fun approximately every half an hour through a massive variety of activities and experiences.
After spending a full working day on the docks, the event culminated at the very residence of the Serbian Royal family, surrounded by beautiful, forest-draped outer suburbs of Belgrade with a mosaic of different entertainment and fun. Their Royal Highnesses Crown Prince Alexander and Crown Princess Catherine were more than pleased to give a warm welcome to our attendees and join them for the night, wrapping up the entire experience in the most memorable manner.
Event Eat-inerary
A special overview of food design during the event is also much needed: In a country where food is considered a religion, a gala would be nothing without true fireworks in your taste buds. For such occasions you only want to hire the very best there is out there and it doesn't get any better than one of the greatest names in modern haute cuisine! Our 150 delegates had the pleasure of tasting plates that the Meilleur ouvrier de Grande Bretagne Eyck Zimmer previously designed for POTUS Barack Obama, The Rolling Stones, Prince of Whales and other numerous Hollywood A-listers and celebrities. From "brain food" during the conference part of the event, to the full four-course dining concept – everything revolved around the art & science of eating well. Key message: Do you often skip meals, reach out for junk food or have another terrible eating habit? STADA wants to help you maintain your perfectly healthy, happy brain. These colourful mouth-watering bites high with nutrients are everything you need to fuel your brain for the day. Oh, and… they taste even better than their Instagram.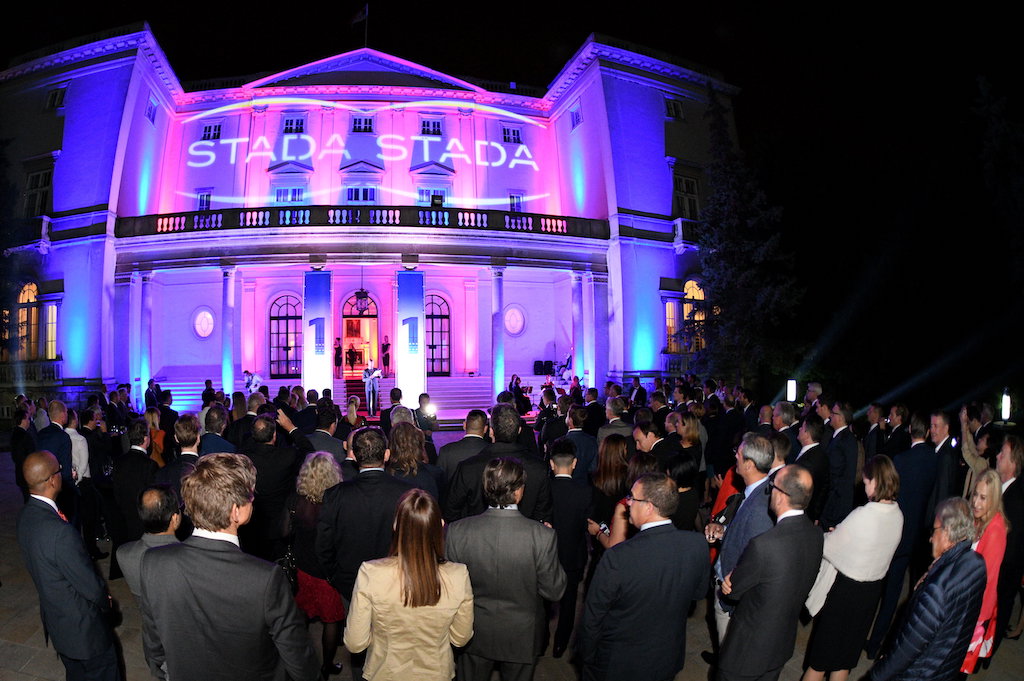 Measurable results
STADA global leadership meeting not only brought the 150 delegates an overload of fun, but also a great portion of education, opening up some completely new aspects in the organization of events.
The long-term impact for the destination went further than anyone expected: through "Hemofarm" – their daughter company in Serbia – STADA donated 110 appliances to Serbia to monitor the condition of patients suffering from coronavirus in total value of 400.000 euros, under the initiative "To Serbia with love".
The use of sustainable practices
Serbia is a place where it's very easy to appreciate the beauty of nature and in order to preserve our community, at DMC Vekol we decided to declare #WarOnWaste quite a while ago. In accordance with our Green Commitment Policy and sustainability credentials, all measures were taken during this program in order to minimize any negative impact on the environment.
STADA Global Leadership Meeting 2019 went full digital from scratch to execution – a responsive web site and an easy-to-use mobile app were created to keep delegates flawlessly updated, optimize every step of the planning process and give priority to paperless communication that is beneficial for both our business and our planet.
Instead of offering international specialties at all costs, both Eyck Zimmer and DMC Vekol were willing to give advantage to local food – grown organically close to where it's bought and consumed to avoid traveling long distances and consequent pollution. After the sanitary check, all food leftovers were donated to the local shelter for elderly homeless to eliminate as much waste as possible.