Basic Event Information
Date: 10 September 2020
Location: Budapest, Hungary
Organizer: Special Effects International; Visual Europe Group; Bo – Live Branding Agency
Client: Budapest Convention Bureau
Event Type: Conference with networking possibilities (non-profit)
EVENT CATEGORY: B2C | Best Non-profit Event
---
Event description and key objectives
Our main goal was to show that Hungarian event professionals are prepared and able to organize and conduct business in the current situation. The initiative of the event aimed to bring to life the experiences and memories that only live events can bring and to demonstrate that the entire Hungarian event and tourism industry is united and strong, equipped with positive and forward-thinking mindset, ready and prepared to provide safe environment.
To introduce Budapest as a safe and welcoming destination for events.
To start a conversation about live events which are vital to restart the economy.
Our objective was to showcase how health & safety regulations work in practice and cover local and international best practices and highlight the economic and psychological importance of live events. We desired to deliver this message across borders and to boost business events. Nothing has changed live events are irreplaceable and have certain power!
Key challenges
This initiative has started as a social media campaign which was launched in an obscure, chaotic period. After introducing the initiative, we needed to start a broad communication campaign to spread the news and to encourage more to join. Our aim was to unite the industry and equipped with a positive and forward-thinking mindset even if most of the companies already had difficulties continuing their operations.
Running the social media campaign for months we concluded that we needed to go live if we wanted to create greater awareness. Due to the ever-changing regulations and the absence of financial support it seemed impossible to organize live events.
Although the Budapest Convention Bureau has finally joined and supported the initiative we faced with limited time-frame due to further tighten preventive measures. On 1st September even stricter border regulations came into force and it became difficult to provide the personal attendance of the foreign speakers.
The implementation of the events demanded huge resources from all the organizers and industry members and companies who have provided their equipment complimentary and workforce for a symbolic amount. Without a doubt the greatest challenge was to rebuild trust among the attendees. Clear and straightforward communication succeeded. Invitees received event invitations and practical operational information along with major safety regulations, as a matter of course only in a contactless digital format.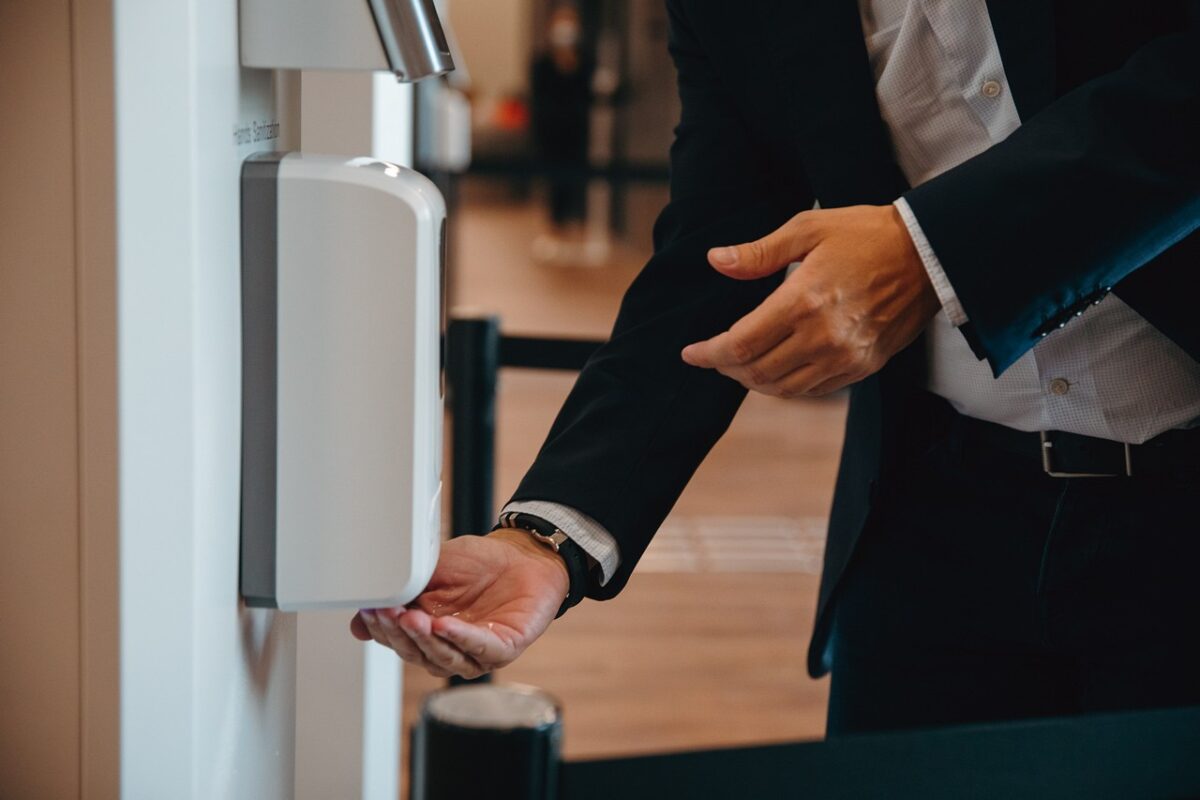 Creativity
The initiative has started as a social media campaign to highlight and spread the message: the experience of a live event is irreplaceable. We have united the industry members (clients, organizers, service providers, professional associations) to join forces and collaborate. We have organized a conference with the participation of hundreds of industry members to cover local and international best practices and highlight the economic and psychological importance of live events. Besides discussions, motivational speeches with event professionals we have offered networking opportunities. We have focused on the present situation and the future of events. We have showcased how to blend protective measures and creative ideas to create a contactless and safe environment during the whole guest journey. Following the conference, two social events with concerts were held where guests enjoyed themselves. The most beautiful sights, event locations in the city were lit in blue to raise media awareness.
Innovation
To rebuild trust in live events, we needed to showcase how to provide a safe, yet comfortable environment for participants. We have examined the complete guest journey cycle and blended visible and invisible solutions to ensure guests' safety and comfort during the events.
Contactless solutions have been provided all along the way from arrival where visible safety was key to provide the psychological assurance for guests. E.g. a disinfection and thermometer gate was placed at the entry. To emphasize individual responsibility, guests could choose between red and green armbands to show their level of concerns in relation to social distancing and greetings.
To enable colleagues and friends stay as close as it is safe, we created 'islands' of chairs that had an additional pleasant effect both on the layout and the ambience of the room. With similar setup concepts in mind, future organizers can make sure 'social distancing' does not necessarily mean a depressing environment. In addition to the live events, the landmarks and event venues of Budapest were lit up in blue to draw attention to Budapest and the Hungarian industry professionals as a great destination marketing tool. Unlike other similar initiatives, our main purpose was to unite each sector of the tourism and the event industry to raise the attention to the importance of live events and the industry members who are ready to provide a safe environment for events
Execution
We have organized a signature event of which is a safe conference.
Guests received a digital invitation and practical information about safety.
Safety communication was maintained at every point during the event.
Contactless solutions have been provided all along. A disinfection and thermometer gate helped to reduce the chance of bringing viruses from outside. Guests could choose between red and green armbands to show whether they are open for a closer greeting.
Hand sanitizers stand at every step, visitors could notice the larger distance between each set of furniture. We created 'islands' of chairs that had an additional pleasant effect on the ambience as 'Social distancing' does not mean a depressing environment.
Catering staff wore masks, gloves and served from behind plexiglass. Meals were prepacked.
AV equipment used by multiple guests were continuously cleaned and disinfected.
AV companies realized the lighting up as their own contribution. All permits were provided by the city for free.
Measurable results
Close to 500 companies and associations have joined the campaign from 28 countries.
600 volunteers have helped during the execution of the live events.
The conference accommodated at approx. 400 guests.
40 sighs and event locations were lit up in blue.
100 000+ reach on social media.
144 local and international articles were published about the initiative and events.
More than 10 local live events were inspired and realized by ours.
5 industry associations joined and collaborated thanks to #PowerOfLiveEvents Conference.
The commercial ad was filmed at the event sights reached more 80 000 viewers at the moment.
Many among the attendees haven't attended any live event since March because of their fear, yet felt safe during our event. Some said this conference illustrated way higher sense of safety than at any other events or in restaurants or shopping malls.
The international challenge was called, several countries are interested in following our initiative.
Communication
Website: http://powerofliveevents.com/en/
360-degree footing: Power of Live Events (360city.hu)
EDM for collaborating companies and enterprises, industry professionals and associations
Target group: clients, organizers, service providers, suppliers, venues, professional organizations, industry members and media representatives
PR campaign: pre-and post-communication
The social media campaign was launched in May with the participation of the tourism and event industry professionals from all over the world to spread the ultimate message: The experience of live events is irreplaceable. Before and after the live event media campaign accelerated and escalated, more than 100 articles were published both online and offline, also multiple radio and television interviews were conducted. It was our pleasure that the #PowerOfLiveEvents has been featured as a great iniative not just in the Hungarian media, but abroad as well. The total reach of the campaign's Facebook page exceeded 100.000+ and the campaign video had more than 80.000 views after it had been shared in the social media
The use of sustainable practices
The events of the future undergo many changes nowadays, contactless solutions greatly contribute to our mission to promote sustainability.
The number of printed materials was reduced to the minimum, there were no banners, badges or menu cards. With the help of an event software and a dedicated QR code for each attendee, registration was contactless and required no printing, also entry was smooth and fast. Branded signage panels were substituted with multiple screens placed around the venue. Digital solutions, like LED-wall, was used as a backdrop of the stage. Video mapping as a spectacular and sustainable attraction was presented at one of the concert locations before the show started.