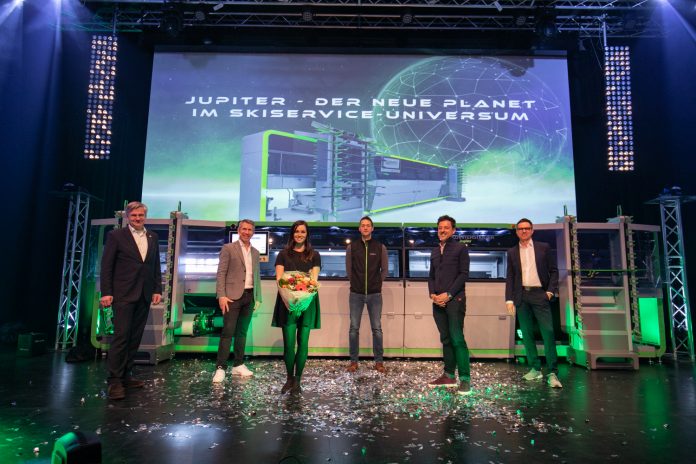 Basic Event Information
Date: 12.01.2021
Location: Ferry Porsche Congress Center, Zell am See, Austria
Organiser: Thomas Zauner, Wintersteiger AG
EVENT CATEGORY: B2B
EVENT SUBCATEGORY: Best Product or Service Launch / B2B
EVENT FORMAT: LIVE
---
Event description and key objectives
The premiere of Jupiter at the Ferry Porsche Congress Center was broadcast worldwide via livestream. Sports presenter Christian Nehiba hosted the extraordinary, literally magical, show. Additional guests were Anna Veith (Olympic champion Super-G), Christoph Bründl (Bründl Sports) and the world's fastest quick-change artists "Sos & Victoria".
Key challenges
Due to the Corona situation, the event could unfortunately not take place with the desired number of people, so the complete presentation was recorded live and broadcast worldwide. The technology had to work perfectly to guarantee a smooth stream.
Creativity
A spectacular show was delivered by the artists "Sos & Victoria". They enchanted the audience in front of the new machine, with amazing tricks. With light and show effects, fireworks and star guests, the presentation created a wow effect.
Innovation
A machine from A to Z! With the new Jupiter, Wintersteiger offers an all-round package with five different processing modules, three loading variants and three application levels for different service requirements. Anyone, regardless of the size of their business, can have their machine customized and thus get up to 70 pairs of skis per hour in shape.
Edge grinding with V-Edge technology, the "Trim Cut" sidewall processing unit and digital ski recognition, are among the major highlights of the Jupiter machine. In addition, the new development is better, more powerful, smarter and more flexible!
Execution
After a long lead time of 1.5 years, with many rescheduling and changes, the presentation of this innovative development was finally accompanied by the Ferry Porsche Congress Center. Even in times of Covid-19, the house manages to hold the event with strict security measures, such as testing before entry, spacing rules, ventilation and one-way systems, as well as increased cleaning measures.
Measurable results
Full confidence from both sides were given and therefore nothing stood in the way! Also at the event itself, nothing was promised too much – 11,000 customers had the opportunity to participate in this spectacular presentation live. A complete success, positive feedback and a good cooperation rounded off the event.
Communication
After the event, the presentation made it into several regional magazines and was met with great success. You could also read all about the event on all social media channels. During the presentation, participants were able to follow the event via a link that was sent out in advance.
The use of sustainable practices
Due to the live broadcast, not all people had to travel specially and could therefore watch everything from home. The ecological footprint was thus reduced.