Basic Event Information
Date: 8 – 9 October 2020
Location: Online and at The Herman Potočnik Noordung Center of Space Technologies
Organiser: Eventnika d.o.o.
Event website: https://www.worldofsynergy.com/
EVENT CATEGORY: CROSSOVER
EVENT FORMAT: HYBRID
Event description and key objectives
World of Synergy (WoS) Confluence was a sequel to the World of Synergy 2019: Inclusive Leadership conference. Due to the changing circumstances the format of this new edition took multiple forms. But the core of the conference stayed the same throughout the changes – a living experience that expands perception, perspectives, potential, and possibilities and is co-created by everybody.

Supported by free online sessions that took place 6 months prior, this learning journey reached a peak at the conference over the course of 2 days, from October 8th to October 9th. The first day of the experience took place online (Zoom platform) and the second day online (Zoom platform) and in-person (Noordung Center). By using a combination of online and in-person moderators, different online platforms and simultaneous video and audio transmission, we created an event that allowed the same experience for online and in-person participants.

The key objectives of the conference were:
To form a creative approach to how we connect and learn together.
To include everybody as a co-creator – there were no spectators.
To encourage interactive explorations to grow collaboration capacities in unpredictable times.
To stimulate questions that invite us into spheres of possibility previously unimaginable.
To stimulate a process that has been proven to be a very powerful approach in finding and empowering new forms of being and working together, as individuals and as a collective.
Key challenges
During the forming and planning, the following key organizational, financial and content-building challenges emerged:

1. How to organise a conference in the times of COVID-19?
With a strong wish of executing at least a part of the conference in person, we searched for the way that will allow us to organize a conference that stimulates learning experience and encourages domestic and international participation. We discovered that a hybrid event allows us to create a part of the conference in person, gives participants the opportunity to decide whether to join in-person or online and it allows an easier transformation to a full online conference, in the case of the ban of in-person events.

2. How to create the same experience for online and in-person participants?
We brought together highly capable content builders, facilitators, moderators and speakers that worked together for six months to find a way to stimulate the same experiences. They found that we had to plan two different events – one online and one in-person with the same objectives.

3. How to provide enough financial resources to cover the expenses of the conference, as we had limited marketing results and sales?
With a team of notable experts with wide networks and negotiating skills we managed to provide sufficient funds mainly through sponsorships and volunteering, connecting us to like-minded organizations and individuals.
Creativity
Creativity was integral in organising and executing and it shows through:
1. INVENTIVE FORMAT:
Our main guide in planning this conference was to conceive a creative approach to how we connect and learn together. We wanted to create a format that allows innovation, creativity and insight on spot, which influences the direction of the conference. For example, we created badges for in-person participants with 5 different insightful questions, which were later used to randomly group people together. We also created a new workshop WILD WEB WALK that took place in nature and allowed participants to connect not just via Zoom but also with our inner self and even with nature.
2. IMAGINATIVE CONTENT
The content was created in a way to stimulate interactive explorations to grow collaboration capacities in unpredictable times. It stimulated asking strong questions, active listening, non-violent communication, reinvention technique, embodied leadership and mobilizing community potentials for the development of individual initiatives.
3. ADAPTABLE EXECUTION:
Due to the changing circumstances, the execution was changed multiple times. That meant that we had to have multiple options for final execution while simultaneously providing the same level of quality and participation. At the end we created a hybrid conference which meant that we had to transform the space for in-person participation in accordance with COVID regulations and set strict rules for organisers, participants and partners.
Innovation
The focus of the conference was the co-creation of the experience by everybody. This meant that we couldn't have the strict, rigid programme that is present on most of the conferences. We saw our program as an unfolding process that invites co-creation, unexpected insights, memorable experiences, and a sense of allyship in this changing world. The programme was a map; we expected that the living experience might change as circumstances changed.

To stimulate the co-creation by everybody we scheduled a preliminary session in August, where we invited the participants to help us shape the programme of the conference. By asking them directly, what are the topics that are important to them, we included them in the planning of our programme map. We also encouraged participation and co-creation of our 5 programme topics (dialogues) by inviting sharing and asking questions at the conference. This was enabled online by the Zoom function "raise hand", in-person by physically raising hand and by external online platforms (Mentimeter).

Our conference consisted of 5 interactive dialogues, each with a light structure and content piece that catalysed a collective learning & sharing experience:
DATA dialogue: New forms need a different kind of data
CULTURE dialogue: Re-inventing community collaboration
PRESENCE dialogue: Being present; learning from the unknown
FUTURE dialogue: Re-creating futures together
INTEGRATION dialogue: What is next-level aspiration now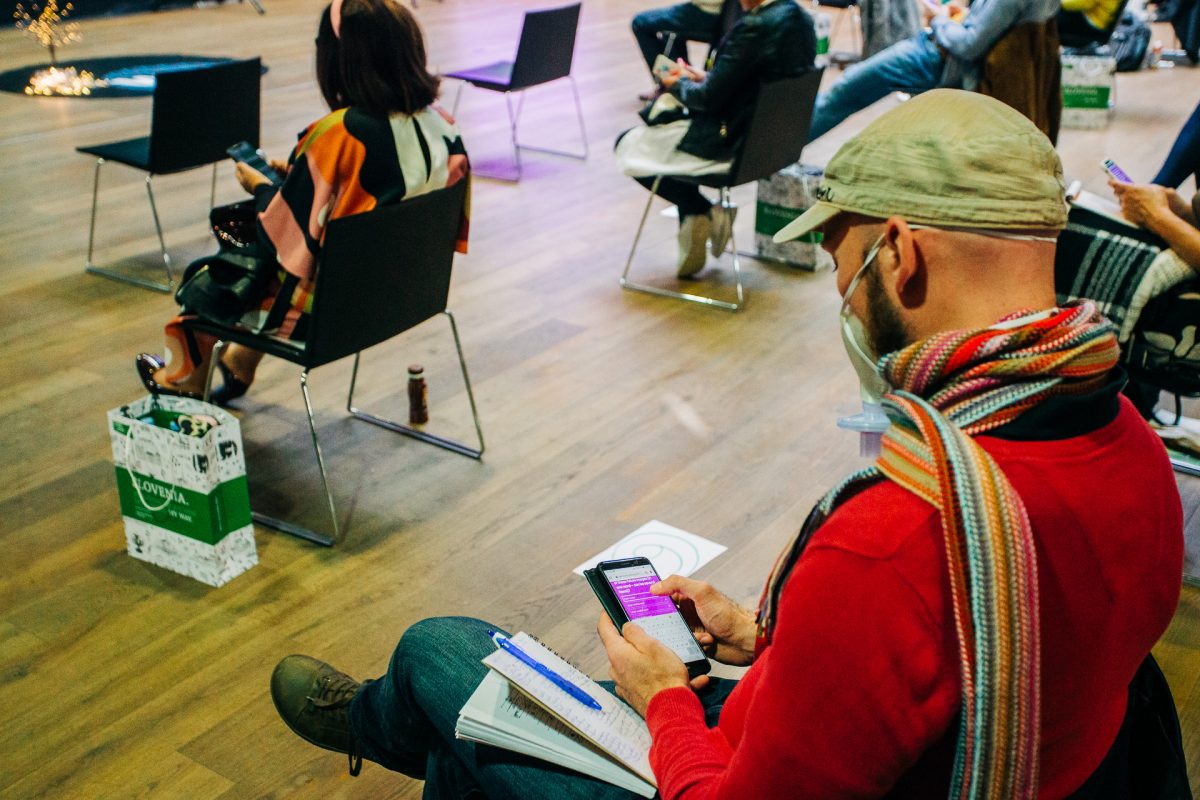 Execution
The execution of the event was possible by the virtue of:
5 core team members,
10 volunteers,
7 technical team members,
4 moderators (2 online and 2 in-person),
11 main sponsors,
18 partners,
18 months of preparations and many updates.
Each of the members and partners had an active role in the planning and carrying out the conference and in managing specific tasks.

The challenges of 2020 encouraged us to start (executing) the WoS experience 6 months prior to the conference and activate our RESPONSE-ABILITY in the form of free online sessions. We wanted to help each other build up our ability to respond and find new ways to deal with the uncertainty together, as a community.

WoS experience culminated at the conference where the execution took place online and in-person. Online the conference took place on the Zoom platform, which was the budget friendly solution that allowed us to engage participants in multiple ways. To stimulate the co-creation online and create the same experience for all participants, we had 2 online moderators and a technical host that monitored and stimulated the participation. The in-person part of the conference took place in Vitanje in Center Noordung, where we had 2 in-person moderators, 10 volunteers and 6 technical team members that took care of the video and audio transmission. The scope of the location allowed us to safely execute the experience and wow our participants with the out of the box location.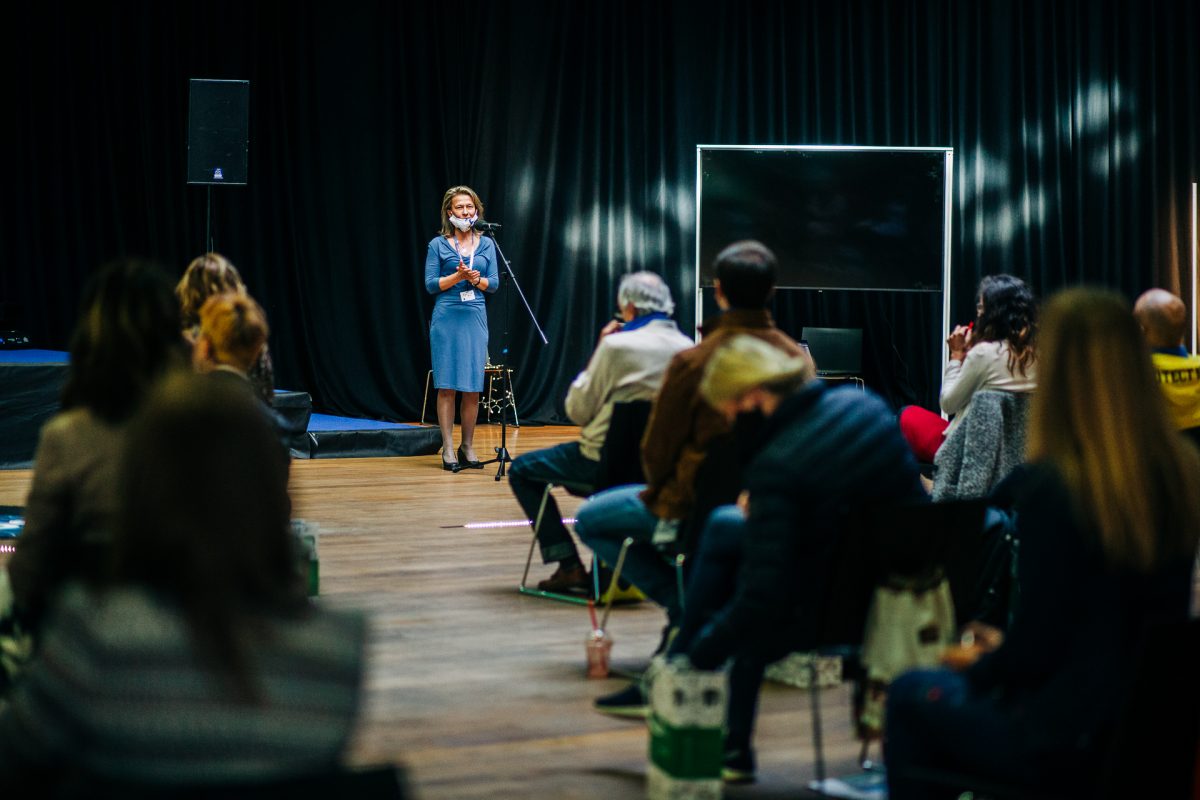 Measurable results
Due to the COVID pandemic, which unabled us to carry out the planned conference in March of 2020, the first measurable result is executing the conference in October 2020, 7 months later. That meant that we had to plan a new conference in a completely new and changing situation while being responsible and communicate with confirmed participants about the cancelation and refunds.

To promote our conference and to build up our RESPONSE-ABILITY to this changing environment, we decided to execute at least a part of the conference in March, on the day that our original conference should take place. This session was carried out for free online and paved the path for the rest of our free online sessions till the conference. Altogether we organised 5 monthly 2-hour free online sessions which had 152 participants. On the day of the final conference we had 95 participants, on the second (hybrid) day we had half participants online and half in-person.

The cost of the whole conference was 50.000 EUR, half of the cost was covered by our sponsorship and half by the participation fees. We also gathered over 10.000 EUR in promotional material.

WoS results in numbers:
5 core team members,
10 volunteers,
7 technical team members,
11 main sponsors,
18 partners,
18 months of preparations,
5 free online sessions,
1 wild web walk,
2 days of conference,
4 moderators,
6 online speakers,
2 speakers in-person.
Communication
Our main communication channels were our event web page, our email newsletters and Facebook and LinkedIn social media profiles. The webpage was updated and modernized which allowed a better presentation of WoS ideas. Our newsletters were sent regularly (at least 2 times a month) to our subscribers which created a more trustworthy relationship. Social media was also a good channel which allowed us to connect with interested parties more easily. The communication messages were mostly focused on the insights from the last year's conference, news about the current conference and spreading messages from our core team members and speakers.

WoS communication also included a more traditional, printed media, DELO d.d., the leading slovenian publishing house, and its weekly SVET KAPITALA. They supported our conference with presentations of our programme, speakers and sponsors and also creating a promotional contest for WoS tickets. Important channels were also our other sponsors and partners. They shared the information about WoS conference in their email newsletters, on social media and on their events.

Viral channels for spreading the WoS messages were our last year's participants. The enthusiastic participants were able to create a buzz about our conference. Their opinions and desire for the second edition of the conference, inspired us to create the WoS Confluence in 2020.
The use of sustainable practices
Our vision for the WoS confluence was to bring more balance to the world. We wanted to provide the experience of harmonic collaboration, which activates the capacity of connection and wiser decision making within each participant. Decisions coming from a place of deeper connection with oneself, with others and something bigger than us are contributing to shift from force to power. This is directly connected to the sustainability and the harmonic future between people, businesses and nature that we can create together.

The conference addressed all three pillars of sustainability – economic, environmental, and social. In the economic sense, the organisers experienced revenue growth, visibility, acquired new partners, and exceptional reference. WoS was also very environmentally friendly: enabling online participation and thus reducing the carbon footprint, having only vegan and local meals on site, biodegradable name tags, including environmentally conscious company (beFresh) and having only non-alcoholic beverages. We tried to reduce paper use by online forms (necessary for NIJZ and health inspections). In the social sense the participants formed a real, tangible synergy that continued even when the conference ended. Everybody involved broadened their personal and business networks forming new project alliances and discovered how to work together better, as a community.