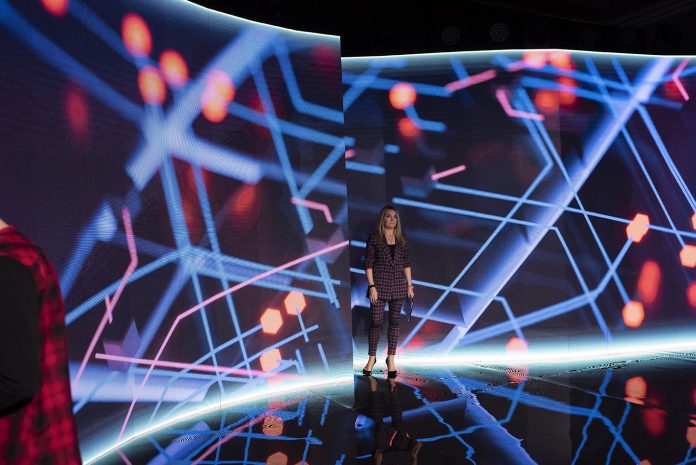 Basic Event Information
Date: 24.11.2020
Location: Poland, Warsaw, Hotel Hilton (at Grzybowska street)
Organiser: Bespoke Sp. z o.o., Poland
Client: Huawei Poland (Huawei Enterprise department)
EVENT CATEGORY: B2B
EVENT SUBCATEGORY: Best Corporate Convention / B2B
EVENT FORMAT: DIGITAL
---
Event description and key objectives
This project was the most important Huawei Enterprise event in Poland in 2020. It was made online and was addressed to four groups:

1. Partners,
2. IT companies,
3. The Media
4. New Customers.

In addition to promoting services and new business, it was also a summary of Huawei's 16 years in Poland in 3 fields:
1. Intelligent technologies
2. Social campaigns and sustainable business
3. Scientific cooperation with tech-universities.

The event was carried out online in 4 thematic categories and on 4 scenes simultaneously. Substantive business message was based on experiencing Huawei's in four areas:
1. Cloud and Artificial Intelligence
2. Network Solutions
3. Solar Inverter (innovative idea of green energy)
4. Partner Ecosystem + LIVE with showroom

It was accompanied by a media campaign and 360 ° communication media service from the agency. In recognition of the cooperation so far, we were given a chance to actively co-create the assumptions of the project. And with big opportunities, big things happen…
Key challenges
Key priorities for Huawei (client)
1. Promoting products by experiencing their innovations
2. Cooperating with new and acquired clients
3. Presenting the brand as a global and socially responsible IT leader
4. Reaching Huawei's KPI (listed further and shown on the video)

Main challenges for Bespoke (agency)
1. Organizing an online event that will be better than traditional F2F form
2. Creatively turning pandemic restrictions and digital participation to the positive benefit of the brand ("use technology to reach participants better and match their business needs")
3. High and long participant's participation in the content (common problem for this kind of online meetings)
1. Eco-Connect Poland 2020 challenge no. 1 – promotion of Huawei innovations
– experience of Huawei solutions in 4 thematic areas through a creative and tailored concept – 4 online rooms in 30 lecture scenes.

2. Eco-Connect Poland 2020 challenge no. 2 – promotion of the global brand idea
– summary of Huawei's 16 years in Poland

3. Eco-Connect Poland 2020 challenge no. 3 – promotion of responsible business
 – promotion through social commitment and scientific dedication (including: supporting polish local innovations, fighting cybercrime, equipping tech-universities)
Creativity
"Hello Intelligent Poland" (a creative concept for Eco-Connect Poland 2020)

a. it was developed on the theme of a window through which we can see the innovative, intelligent and socially engaging future created by Huawei.

b. the symbol of the "windows of the future" were based on four LED squares placed in a spatial arrangement. These figures indicated 4 thematic rooms at the same time.

c. the rooms were distinguished by animations and the lectures by transmission boards – both of these elements made the participants familiar with the services and ideas of the brand through the image

d. we showed how Huawei supports society (concept for showing educational activities, storytelling narrative about the fight against social and technological exclusions, supporting science – the Seeds For The Future project)

Was this idea relevant for the target group?
the targeted group were IT specialists and tech-innovators – a very specific group. For them the greatest benefit of participating in such events, is deepening their know-how, gaining new knowledge and learning about trends. This drives their business and therefore their collaboration with Huawei.
our solutions were designed to meet the above-mentioned expectations. And as it turned out it was the way to success. Huawei's KPIs were exceeded and attendees rated this online conference even higher than traditional F2F conferences!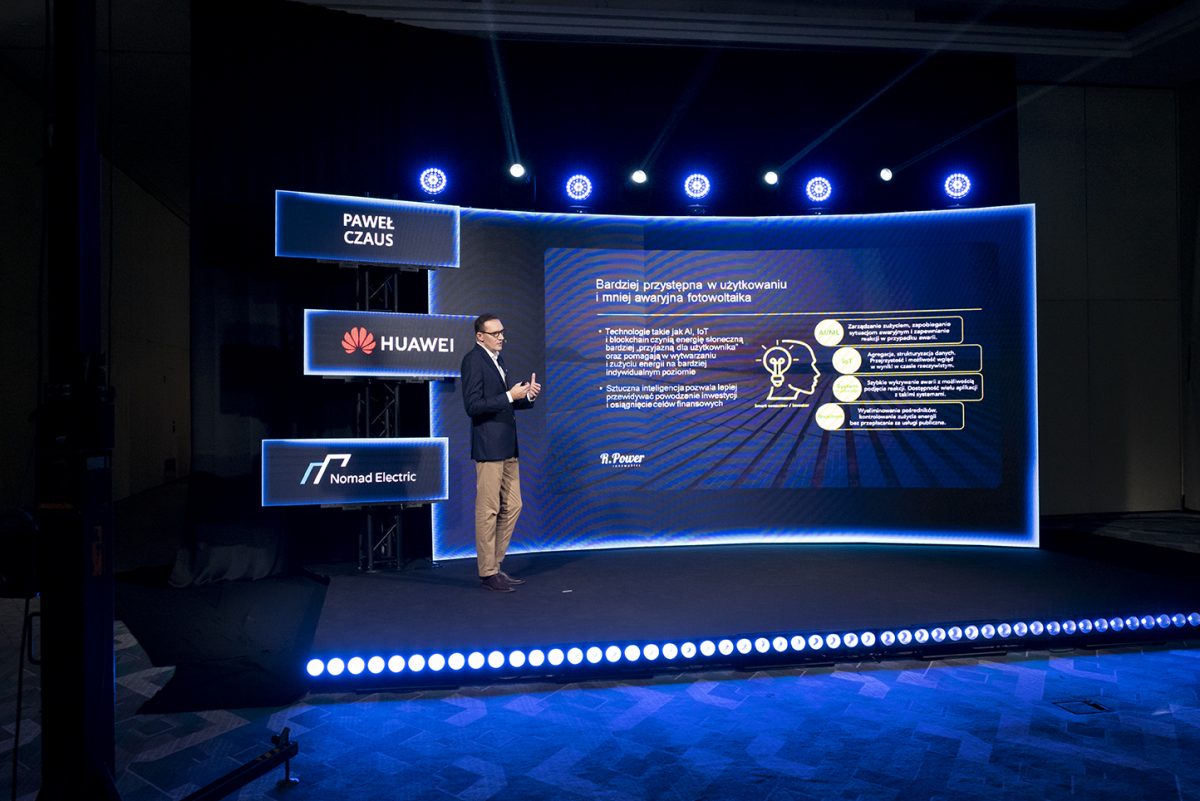 Innovation
Advanced F2F-style interactions carried out online:

"…and The Winner Is"
– 2 storytelling games / we based our script on Huawei's values

"Eco-Energizer Activites"
– highly active and physically engaging breaks during show – form of competitions

"Know Your Know-How"
– 8 quizzes for the common part (all participants) and for each room (profiled participants)
– it was an integral part of the website (easy participation without leaving the page)

Stay in Focus techniques
– soft and material awards for pro-active participants based on interaction with speakers

Deep Immersion
– dozens of advanced animations supporting deep concentration
– waving LED screens that stimulate participants activity

Advanced Communication
– efficient activities (a) before, (b) during and (c) after the event: mailings, chat, helpline
– a most important: profiling forms for creating the best business message ("you get exactly what you want and need – for you and your business")

Web page
– function assigning participants to the room according to interest (profiling forms)
– demo zone
– videos with Huawei solutions tests recorded in the Warsaw POC Lab
– automated calendar of individual meetings with a speaker or engineer
– creating a collection of emoticons for SMS and Social Media

What was the involvement of the group?
– Every solution mentioned above worked better than we expected. We exceeded Huawei KPI and participants expectations.
Execution
In general: the event was carried out online in 4 thematic categories (Cloud and AI / Network Solutions / Solar Inverter – green energy / Partner Ecosystem) and on 4 scenes simultaneously:

Additional ideas we carried out during show:

Laboratory zone
– a special space for testing Huawei servers, where participants could learn about the full-mesh operation in Dorado V6 and the active-active cluster
– participants could arrange tests in the Huawei laboratory

Expert Zone
– LIVE chat with specialists and innovators
– creating a virtual expert space, which made it possible to arrange an individual meeting with the speakers (innovative functionality on the website)
360 ° event service and creation
– responsibility for the event campaign (PR / Media / Socials)
– selection of the target group – potential and current contractors and partners.
– promotion of the event and increasing the registration of the selected group.

Others:
– dynamic gala and awarding of statuettes to the distinguished partners
– precise survey for new and regular partners (support for Huawei sales department)
– delivery of gifts in real time of the event (product promotion)
Measurable results
Huawei KPI
– Registered participants: 800
– Online participants 50% of registered participants
– Participation in the broadcast 50% of participants for a minimum of 3 hours

Eco-Connect Effect
– 1227 (registered participants)
– 62% (online participants)
– 85% / 5h

Huawei Eco-Connect in numbers:
4 themed rooms, 4 sets, 4 separate studios, 4 graphic contents (a series of animations opening meetings)
30 lectures (recorded and live)
150 m² of space for speakers, 180 m² of LED screens
100 lighting points
19 hours of recording (gala, remote connections, lectures)
24 presenters from many countries, 6 partner companies and 3 external institutions.
17 awards for partners and distributors (gala)

Success on a European scale – our polish event as a reference point
– according to managers in the central and regional office, the polish edition of Huawei Eco-Connect 2020 was indicated as one of the two best Huawei events in Central and Eastern Europe and the Nordic countries.

Achieving goals
– the 360 ° promotion had great effect: increasing the reach, acquiring new customers and strengthening relations with existing partners.
– in the opinion of the client and participants, we managed to visually and qualitatively beat the formula of pre-pandemic F2F events. Journalists emphasized that the online presentation of services has duly replaced the F2F versions
Communication
A communication enhancing the main message of Huawei:
– the setting of the event started a new era in brand communication; Huawei has become a symbol of modernity, exceptional design and unique technological solutions.
– the creation of the event created a coherent story with the elements of Story Telling embedded in the animations and the message of the speakers
– specialized interaction during and after the event based on expanding knowledge and competences
– rewarding loyalty – summary of cooperation with partners and award gala
– media promotion – 360 ° communication

What aspect of our event opened a new chapter in organisation of business online events?
– knowledge mixing – we arranged cross-meetings of participants in separate rooms (not available before on such an event)
– individual consultations with best Huawei specialists (not available before on such an event)
– interactive and automated www platform functions
– strengthening the relationship with entertainment based on deepening know-how
– engaging participans (giving them "Huawei experience") despite online participation
– profiled participants got the knowledge of new Huawei services in an inspiring way,
– exceeding the expected participation, activity and listening to the entire event
The use of sustainable practices
Unprecedented sanitary protection
– individual sanitary packages / continuous disinfection / temperature control / catering in special containers / statements / replacement of masks every 2-3 hours
– the technical teams and medical care were also provided with the sanitary protection
– we made this online event during red zone restrictions
– our experience has become the basis for solutions promoted in the industry

Symbolic zerowaste
– the foyer and reception area were built from recycled Huawei stands

Spectacular feedback from participants, the customers and the Huawei Management Board
– "Spectacular Organization, despite remote conditions. Congratulations! High level of competence, transmission, subject matter. It was definitely worth getting to know more about Huawei's solutions!"