Basic Event Information
Date: July 10, 2021
Location: Sevnica Castle
Organiser: Pirana d.o.o.
Client: Visit Sevnica/KŠTM, Posavje Wineries, Merit International, Nepremagljiva.si
EVENT CATEGORY: B2C
EVENT SUBCATEGORY: Best Pop-Up Event / B2C
EVENT FORMAT: LIVE
---
Event description and key objectives
Secret Dinners are occasional pop-up events since 2017, for those enjoying good food and selected wines and drinks, spiced up with excitement and some secrecy without prejudice. Best Slovenian chefs, unusual locations, thematic menus and great company are the common denominators of those evenings. Menus are inspired by the chosen location and chef's enthusiasm; rules exist mostly to be disobeyed. Only the region, chef's name and time of the events are known, the exact location of the pop-up restaurant is revealed three hours before the dinner. Only after the guests arrive, they get to know about the dishes they are about to taste. The idea is to attract and connect a colourful bunch of attendees that share the same passion, present Slovenia's best, and enrich our country as destination with yet another tasty and trendy reason to visit. We mostly choose locations and themes that seem a bit off, but out of the box approach brings results every time.

This time we paired up with an underrated region of Slovenia, Posavje, as it has a lot to offer – great locations, rich history, perfect food ingredients and a selection of indigenous Blue Franconian (modra frankinja) wine that has started to reach out into the world with the new generation of innovative young wineries. The goal was to present all of it to selected members of lifestyle media as well as to wider audience – random potential customers, tourists and foodies who probably never thought Posavje offers so much.
Key challenges
There were more than one challenge to overcome:

1. On first weekend of the peak tourist season – people pouring towards the seaside – it's hard to convince people to go inwards, to a not very well known region of Slovenia.
2. Pairing a very specific wine-selections of Blue Franconian with all the plates
3. Using typical Posavje region's ingredients on all plates
4. Telling the story of the region and the castle in a new way
5. Collaboration with inexperienced clients, unused to media communication and demands
6. Attracting all the 'right' media and influencers to attend or publish the event
7. Maintain the interest of the media after the event
Creativity
Since menus and locations are a well-kept secret, it is hard to cater people with special needs and dietary requests as well as do a proper location teaser. It can only be done using previous positive experience of customers and clients, as well as with a positive PR campaign. We are using our Chefs as a main teasing factor. In time, it became already known our menus are formed within a story that the location inspires and it has become expected. Although for some people it is still hard to understand that this event is not meant to be a typical restaurant with multiple menu choices, shiny toilets, ideal temperatures, comfy seats or valet service, but foremost a tasty story to remember. We manage to overcome that with a personal one-on-one approach, knowing that we are all taking some risks – guests initially not knowing what they paid for and risking that they might not like it all, and us trying to cater as most needs possible in the best way possible, making guests experiencing a great evening to remember. That's why dinner is not just a dinner, it's a story, preferably an unexpected one.

This one was done in a castle surroundings in a merry, very non-castly, casual setting, with a guided tour for those interested, and a surprise twist – visit of countess Mathilde after the desert, who explained her story and led our guests in the family's tomb for a good-night prayer. That certainly made an impact.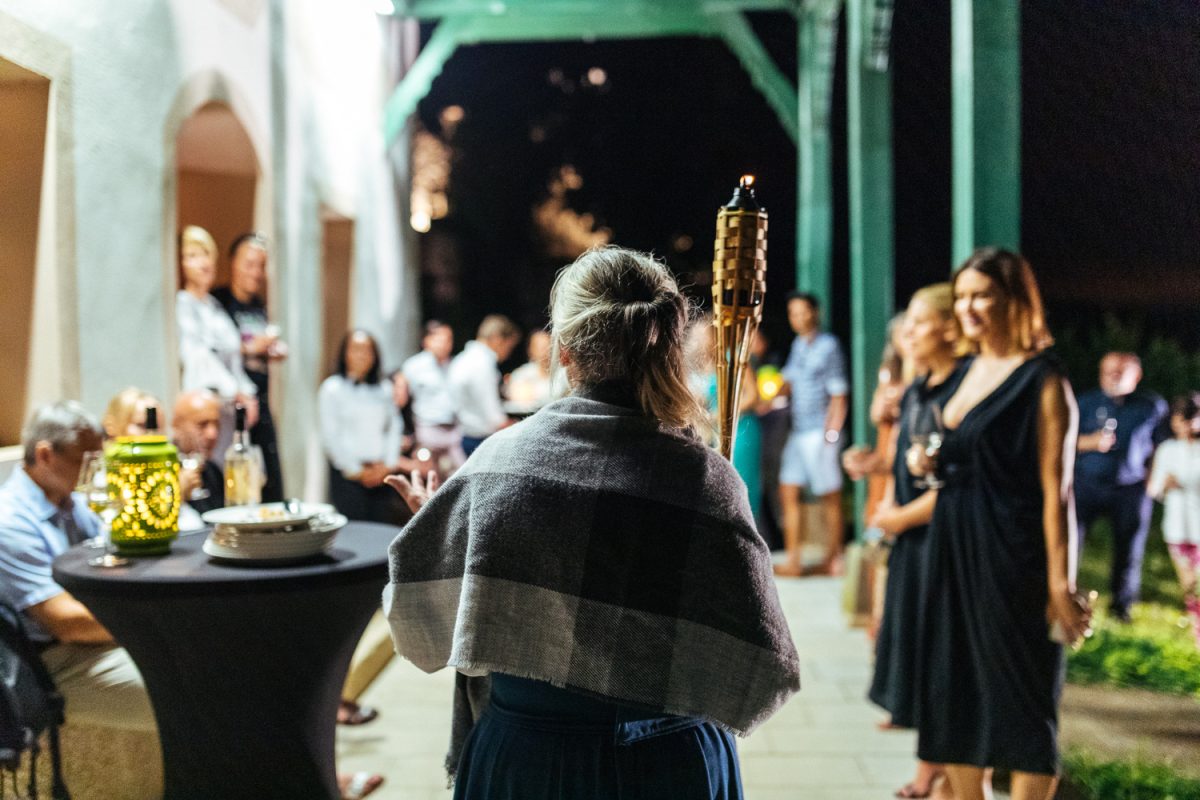 Innovation
Events for promoting unknown locations and stories don't need to be flashy and crowded to be well communicated and considered as successful. Secret Dinners with approx 25-45 pax attendance have that effect at all locations.
Successful wine/food/location/Chef pairing goes a long way, especially in Slovenia that is one of the best and most diverse gastronomic region in this part of Europe. We sincerely advise people with special dietary needs not to join the party since they would not have the complete experience, still, Chefs and wine brands that have been promoted/used for Secret Dinners have experienced an immediate increase of demand. A good story, professional photographer and PR also help (all participants – Chefs, guests, wineries and location owners get their pro-photos to share and publish), as well as a good execution of the event that is based more on personal, not so much technical perfection. This way guest can observe the preparation of food by Chefs in a relaxed atmosphere, sommeliers explain the wine pairing and everybody is at guests disposal for a chat, opinion or networking at a long democratic table without a seating order. At times we also provide occasional surprises or decide to give guests practical giveaways that prolong the effect of the event itself. In short- in a very impersonal and merciless world that most of guest live daily, we decided to choose an imperfect sincere and personal approach instead of perfectly technical one, for no lesser effect.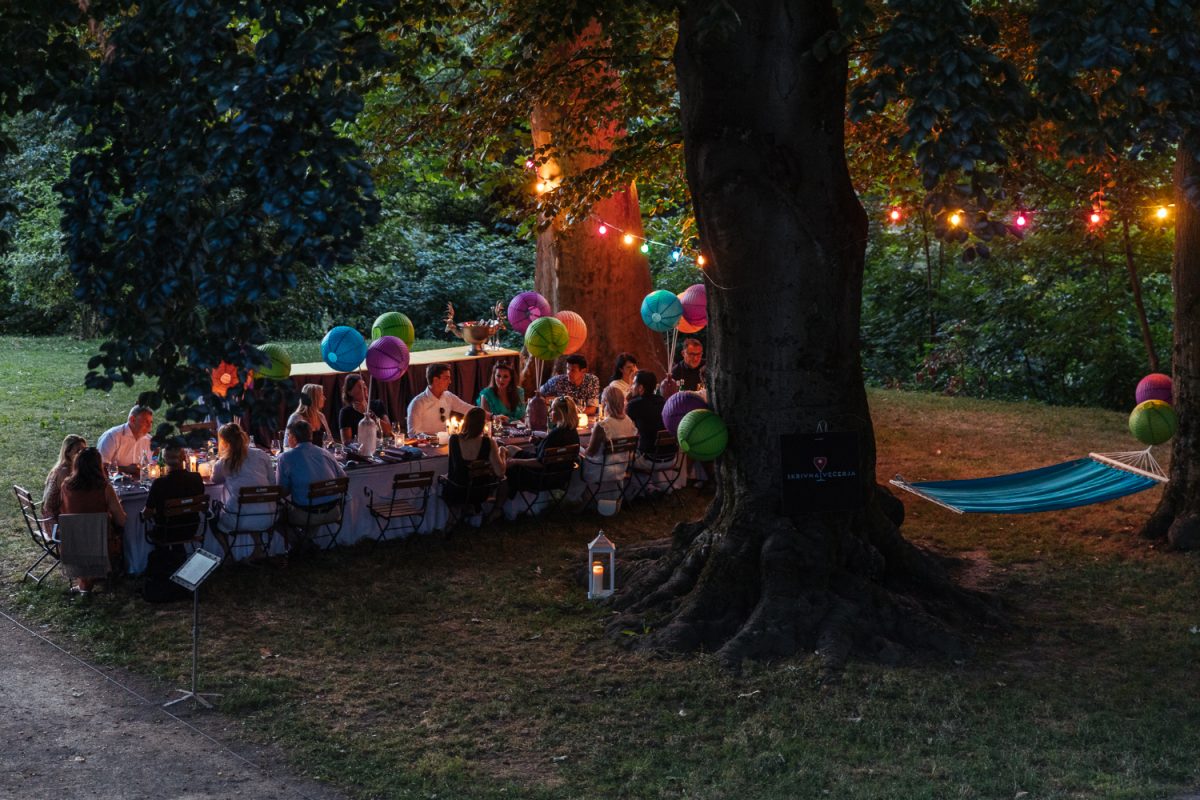 Execution
1. Choosing the date according to availability of wanted Chefs, confirming the Chefs
2. Choosing the best location and wines/winery of the region
3. Announcement of the event, opening the applications
4. Research of the locations trivia, food specialties, ingredients, stories as well as client's wishes
5. Pairing the wines (in this case variations of the indigenous Blue Franconian/modra frankinja) with the menu, preferably with local ingredients – in Sevnica we used the'voščenka' apples, the famous 'krškopoljski' pork, trouts, venison and honey.
6. Assembling and designing the menu – printing it in form of a fan – reminding the guests about the castle ladies as well as being practical for a hot summer night
7. Deciding on decorations
8. Preparing the PR approach/texts for the follow-up
9. Execution of the event
10. PR follow up
11. Measuring the effects
Measurable results
Targets:
1. To remind the audience Secret Dinners are back after the long Covid break
2. To have at least 20 guests
3. To establish Sevnica and Posavje as one of the 'worth to visit' locations, especially in central Slovenia
4. To establish modra frankinja/Blue Franconian wine as a trendy and interesting wine in all its variations
5. To promote Posavje wineries
6. To reach lifestyle media outside the local Posavje region
Results:
1. 22 attendees – 7 members of different media
2. 18.171 FB post reach, 1765 post engagements, 44 new followers only on 'Skrivna večerja' FB official page
3. IG posts and stories with a noticeable reach by Rebeka Dremelj, slovenianstravel, Hannah Mancini, Manja Stevic
4. 10 menus sold for next dinner in September (date, location and Chef still unpublished!)
5. 2 B2B custom Secret Dinners ordered for September
6. Articles published on web so far:
7. Articles published in lifestyle magazines: Suzy, Lady – published in July
8. Articles to be published in August: Odprta kuhna (Nedelo), L&Z,/Lepa in Zdrava, slovenianstravel.com;
9. Happy clients!
Communication
All communication of Skrivna večerja/Secret Dinner project is personalised, sincere, open and based on previous experience. We are trying to be as personal as possible, as it is a beloved project of two ladies, Andreja Freyer and Melinda Rebrek, both known to enjoy life, travel, food and bubbles, recommending the best experience to those who share their passions. We sincerely advise people with special dietary needs not to join the party since they would not have the complete experience, but still, most of them agree even for less, just to join the experience and feel the atmosphere. Also, locations, Chefs and wine brands that have been promoted/used for Secret Dinners have experienced an immediate increase of demand. Unexpected menus, imaginative Chefs, new locations, personal touch with a help of a good story, professional photographer and PR with a lot of cross promotion also help, but going with personal, not so much technical perfection. The short term effect is measurable by numerable published articles and posts, and immediate increase of demand, in long term the whole package attracts new B2B customers, wanting the experience for closed groups, as well as a public B2C variant for open minded people, seeking excitements in a bit of an unknown. As the case with Sevnica, there were (are) other regions and locations longing for better recognition with out of the box solutions and collaborations that emerge as we read this. Because we provide results.
The use of sustainable practices
As portions are ordered by exact guest's numbers, there are no leftovers, so no food goes to waste. Invitations are all done via e-mails, we print only as many menus as are necessary, they are mostly usable as props – the last one could be used as a handy fan for a hot summer evening. We don't use any plastic, all cutlery is washable and reusable. Even decorations are recycled for every event, only set-ups change. Only waste after the dinner are used candles and even those are replaced by electronic ones where possible (in glasses).