Basic Event Information
Date: 10-12 June 2022
Location: Valencia, Spain
Organiser: Kuoni Tumlare Congress
Client: EMDR Europe
EVENT CATEGORY: CATEGORY B2C
EVENT SUBCATEGORY: Best Association Congress, Conference
EVENT FORMAT: HYBRID
---
---
Event description and key objectives
EMDR Europe is an association that represents 38 National Associations all over Europe and more than thirty thousand psychotherapists specialized in Eye Movement Desensitization and Reprocessing. A very powerful therapy to solve mental health conditions that happen because of memories from traumatic events. After the success of its Virtual Conference organized in 2021, EMDR Europe faces a new challenge: Organize its next Conference 2022 in Hybrid format under the theme Resilience.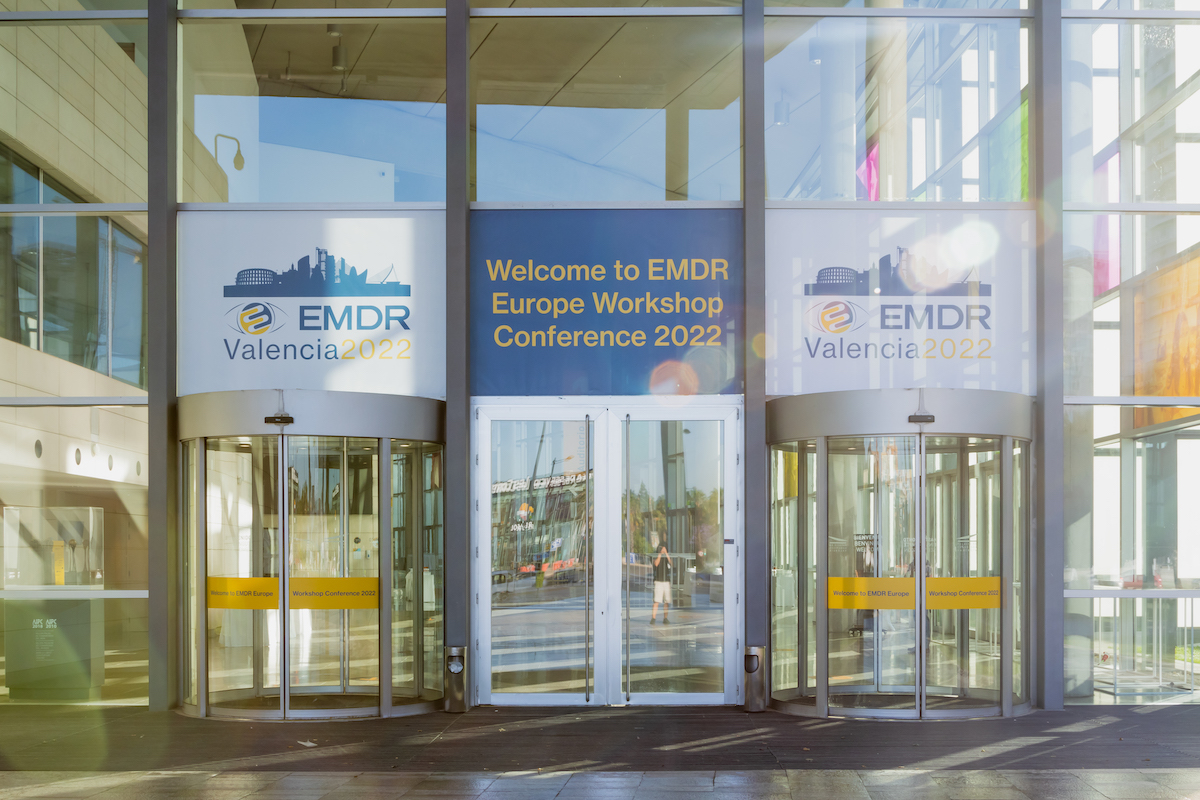 Key challenges
Coordinate a Team of more than 50 people (technicians, hostesses, online support team, onsite Kuoni Team, Translators), Live streaming from 4 meeting rooms, Simultaneous translation in 7 languages (online and onsite), Mobile app to connect people online and onsite, Gamification, and Gala Dinner for 400 pax.
Creativity
Gamification was key to involve people and to make the experience a bit more dynamic. To get points attendees had to: answer Trivia questions about EMDR, find some QR codes hidden in the venue, connect people via APP, Visit the exhibition area.
Innovation
It was the very first time that the Conference was going to be hybrid. Live streaming from 4 different rooms and translation to 7 languages from the Main Auditorium. The big difference was that translators were online, from their countries, and translating for the Attendees in Valencia and for the online attendees. Coordination was key to succeeding and avoiding any IT issues. Live polling during the sessions in the App to interact with the speaker and questions sent via the app to the chair (from online and onsite attendees).
Execution
Successful Live Streaming, perfectly well Streamed with no problems. Success in terms of attendance online and onsite. Perfect coordination with Translators and technicians. Chairs trained and prepared to ask questions to the speaker from online and onsite attendees who were asking via App.
We also tracked the entrance of the attendees in every session for statistical purposes and to deliver the credits at the end of the congress.
Measurable results
A total of 1701 participants (829 in Valencia, 872 online), 82 countries represented and More than 17 sessions between Workshops and Keynotes.
Communication
We really did a big communication effort to communicate among all the EMDR national associations to make sure they were informing their members about the Conference format. E-mailings and personal contacts were key to attracting a big number of therapists to Valencia.
The use of sustainable practices
We gave to all attendees Water bottles so they could refill during the event.
We used Local (KM0) suppliers – not only for catering but also other suppliers
We reduced any printing – no paper programme, signage in Led Screens, no plastic for the badges.
We prepared some swags that can be used in following years
Hybrid Congresss – we reduce the carbon footprint since we give the possibility to follow the session online (by reducing traveling and onsite stay)
Valencia Congress Centre chosen as a venue, was key as they are a responsible centre (they generate solar energy, they have a waste recycling area, they use Led Lighting and they are efficient in the use of resources)
ESOT has always been very attentive to sustainability, for instance, the final conference program has not been printed for many years and every waste is limited to the maximum, whether we are talking about food (extra food was donated to a city charity association), paper, plastic (use of reusable aluminium bottles with water dispensers around the congress venue, use of badges without plastic holder, etc.), or transport (no transfers to / from are organized for the speakers, where possible tickets for public transport are offered to delegates, etc.).
---