Basic Event Information
Date: 2 April 2022
Location: Avicii Arena, Stockholm, Sweden
Organiser: Brand Arena Nordic Group AB
Client: All things live
EVENT CATEGORY: CATEGORY B2B
EVENT SUBCATEGORY: Best CSR Event
EVENT FORMAT: HYBRID
---
---
Event description and key objectives
Together with a number of actors, BANG organized an incredibly important event: Hela Sverige skramlar (Sweden in solidarity with Ukraine). Basically, the event was about creating a manifestation for peace and respect and to do that, we wanted to create something within the category we ourselves are active in – a large live event with fundraising opportunity for those in need affected by the ongoing invasion of Ukraine. On April 2, we gathered the Swedish artist elite in the Avicii Arena in Stockholm to raise money and show the world that we as a nation stand up for democracy and humanity. Key objectives for the event: – Raise 42 million SEK which was the previous record. – Get everyone to work pro bono. -Partner revenues of SEK 500,000. -Selling more than 7,000 tickets. -Having more than a million viewers. – Get everything done in a month. – Get all TV channels and media houses to work together.
Key challenges
There were loads and loads of challenges for the project. Shortage of time was of course one which also presented a number of consequential challenges when it comes to the venue, the artists, the suppliers and everything surrounding that. Also – the whole industry had been shut down for 2 years during the pandemic losing almost their entire revenues and struggling with support packages from the government to survive. We decided about a month before the event that we should do it. Getting everything in order in time was the biggest challenge. Apart from that – getting partners and everyone involved and asking them to work pro bono. Political challenges were also constantly present in the project.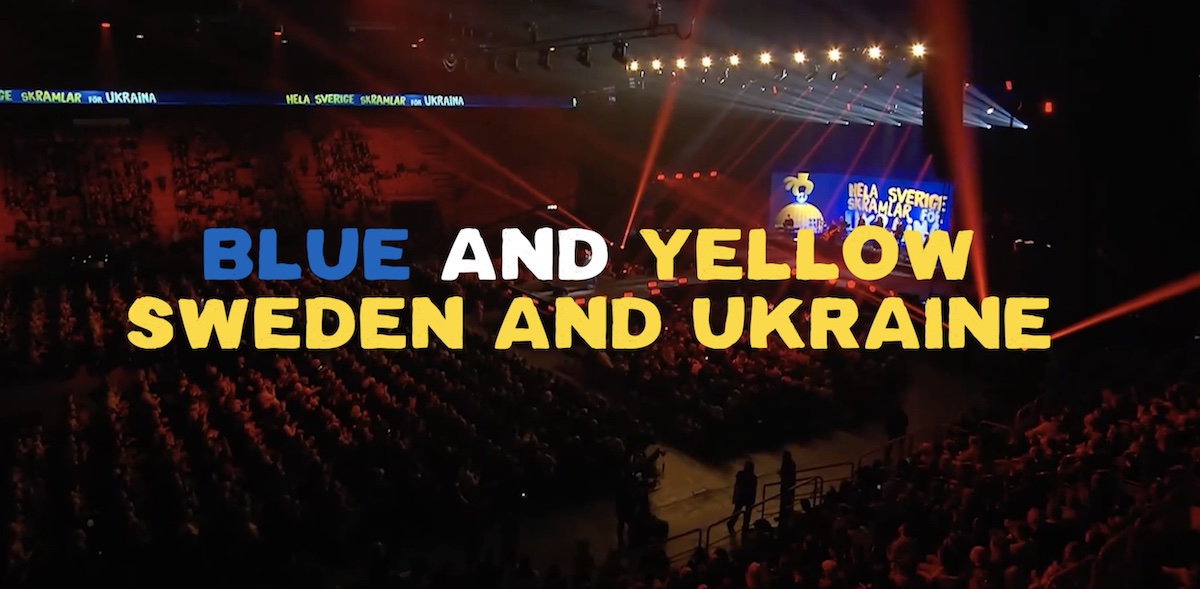 Creativity
It takes a lot of creativity to pull off an event like this in under a month. A lot of organizations, partners and artists had to collaborate in order to succeed – pro bono.
Innovation
For the first time – all Swedish leading live entertainment companies joined forces to arrange this charity concert with some of Sweden's most prominent artists. This time in solidarity with Ukraine and based on three areas – humanitarian crisis, human rights and democracy.
Execution
On the night of the fundraising event, some of Sweden's biggest artists performed in Avicii Arena to show their support for people in need and promote human rights and democracy. The fundraising concert was conducted in the presence of, among others, H.K.H. Prince Carl Philip, H.K.H. Princess Sofia and the Ukrainian Ambassador to Stockholm – Andriy Plakhotnyuk, together with 6,000 people in the audience. Hela Sverige Skramlar för Ukraina (Sweden in solidarity with Ukraine) was broadcast live on SVT 1, TV4 Play, Viaplay, Discovery +, Swedish Radio P4, Aftonbladet and Expressen. The concert raised money for the Red Cross, Proliska, UN Women Sweden, Fight for Right, Civil Rights Defenders and The Media Initiative for Human Rights. SVT and Sveriges Radio raised money for Radiohjälpen. TV4 Play, Viaplay, Discovery +, Aftonbladet and Expressen raised money for the Red Cross. We had a steering group that was based on all conceivable areas of the project and had daily reconciliations.
Measurable results
All of the key objectives were met. Hela Sverige Skramlar för Ukraina (Sweden in solidarity with Ukraine) collected more than SEK 75 million – one of Sweden's largest fundraisers of all time. In addition, the guests' gifts were quadrupled by the partner Max Burgers.
Other numbers:
– 28 artists, bands and speakers.
– 6000 in the audience.
– 2,500,000 viewers.
– 420,000 radio listeners.
– 150 articles and reports were written about the concert.
The total amount collected, in connection with Hela Sverige Skramlar för Ukraina (Sweden in solidarity with Ukraine), was SEK 75,805,615, which makes the collection one of the largest ever in Sweden. Furthermore, an interview with Björn Ulvaeus was be broadcasted via CNN, in more than 200 countries. In other words, Hela Sverige Skramlar för Ukraina (Sweden in solidarity with Ukraine) has created history and is now of international interest.
The use of sustainable practices
One of the most important duties of governments is to maintain and support human rights. Social sustainability is founded upon human rights. All participants were in the project pro bono and the raised funds, including all ticket revenues and revenues from supporting partners, was distributed to 6 selected charity organizations which supported the work with the ongoing and constantly worsening humanitarian crisis and also for democracy and human rights.
---