Basic Event Information
Date: 5-7 May 2022
Location: Dubrovnik, Croatia
Organiser: Saltwater Nomads
Client: Dubrovnik Tourist Board & City of Dubrovnik
EVENT CATEGORY: CATEGORY CROSSOVER
EVENT FORMAT: HYBRID
---
---
Event description and key objectives
The inaugural Work. Place. Culture. Conference Dubrovnik – an experience-rich industry event bringing the concept of work from anywhere to absolutely everywhere. Three of LinkedIn's Top 10 Voices in Remote Work led the way in Dubrovnik over three inspiring days with workshops, "netwalking" and engaging talks from the world's leading destinations and voices in remote work. It was opened by the Croatian National Tourist Board – supporting its recent Croatia Your New Office Campaign.
OBJECTIVES:
1. Momentum
This event is the third major annual event focused on digital nomads run by Dubrovnik since 2020.
2. Foster Collaboration
Over 30 destinations and several digital nomad communities joined in productive dialogues and catalysed collaborative projects.
3. Leverage the growing Workation and 'Bleisure' (business and leisure) audience.
Dubrovnik piloted Croatia's first official tourist board workation program. The event highlighted global remote work trends and destinations reinvent.
The event highlighted global remote work trends and destinations reinventing themselves for this emerging market by developing policy, infrastructure and community.
Key challenges
Several areas stand out as the challenges for the event.
* THE WAR IN UKRAINE
* HYBRID EVENT IN MULTIPLE VENUES
* BUDGETS
1. THE WAR IN UKRAINE
The first impact was upon announcement. Promoted as a primarily live event for the full experience, and in planning since 2021, several speakers and attendees were reluctant to book travel due to the uncertainty of the global political situation.

2. HYBRID EVENT IN MULTIPLE VENUES, ACROSS TIMEZONES
This event was delivered as a hybrid – online and in person. Further, it was across multiple venues, with daily livestreaming. Speakers joined from Australia and the USA across a variety of timezones.

3. BUDGETS
Covid 19 has still kept public spending and sponsorships at a conservative level. Further, looming inflation forecasts also kept the event budget to a minimum due to various global factors.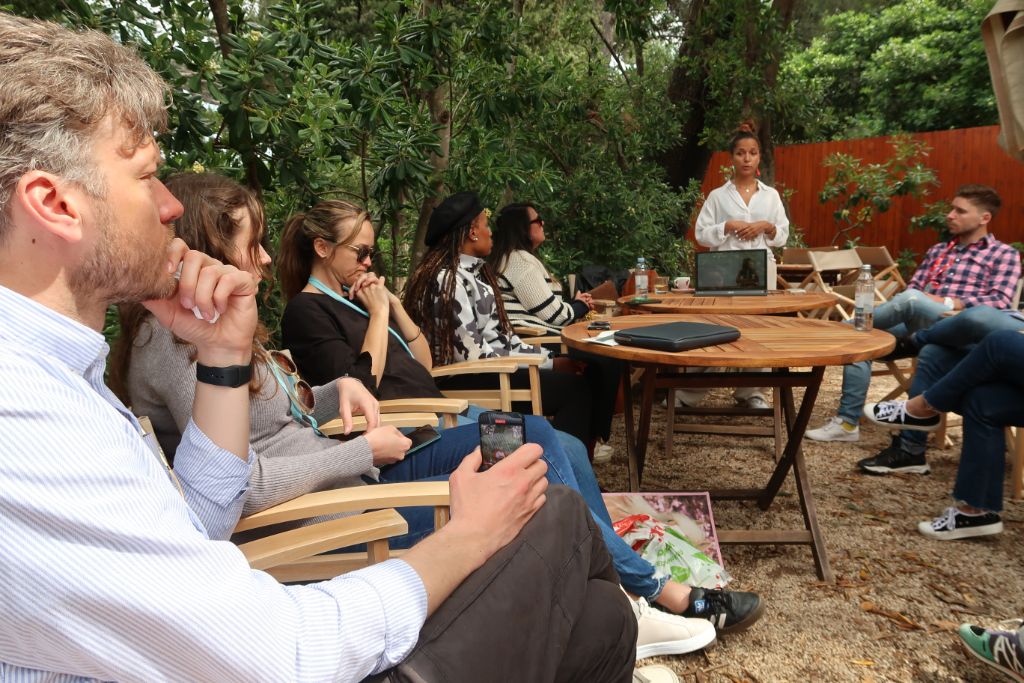 Creativity
Creativity Work. Place. Culture was an opportunity to catalyse conversations at the intersection of where Destinations meet Remote Workers: Early Phase, Emerging and Established Places.
It was also the first in-person meeting for many; prompting the need to create many memorable experiences – which, fortunately, Dubrovnik is surrounded with.
The concept was devised to connect destinations and digital nomads who are looking for "the next stop" and a community to go with it. It also looked at three levels of a destination's ranking among remote workers: early phase, emerging and established. This served as the 'giving circle' where more experienced destinations could guide up-and-coming destinations and build metaphorical 'bridges' between places – because as we are seeing, it is the community which is key; the location second. So, when a destination serves a community, it brings an elevated experience which is mutually beneficial.
First-Time In Person
This was the first time many 'remote first' colleagues and industry professionals had met in person. The transition from online to in-person was key – how to quickly form bonds? How to break the ice almost instantly to make the best use of time?
Iconic Venues – Matching the Conference Topic
Dubrovnik has centuries of iconic settings – and many of these were used; fit to purpose. A beachside panel focused on beating burnout and business growth, demonstrating how lifestyle plays a part.
An island clouded with many myths – where peacocks roam and exotic trees flourish – the perfect setting for a deep dive into a 'life design' workshop – barefoot, laying down and with an individual audio experience. It was talked about for weeks after.
A Winning Workation
With much of the world bringing on new hires during the pandemic, many teams have never met or not seen each other for years – the Win A Workation pilot served as an inspiring reconnection for the winning team – who enjoyed a reset, and new business partnerships as a result of attending the conference.
Innovation
This was the first event where global remote work leaders and the most destinations offering digital nomad friendly stays joined forces. The destinations were dynamic – and there was a strong sense of collaboration vs competition; nomads and travellers will roam – and put community first. In a sense, the destinations began the first steps to forming a community of practice.
Bringing in outdoor elements heightened the experience. For example, on the island of Lokrum, workshop attendees brought their own audio headsets for a highly personalised guided session, with the chance to reconvene as a group.
To build in more networking, the walls served as the ideal backdrop; with a netwalking session in the form of a guided tour, capped off with a keynote address from the self-proclaimed 'King of Digital Nomads' – a fitting setting, given Dubrovnik's history now includes being synonymous with the Game of Thrones "King's Landing" location.
LinkedIn is the largest online platform for professionals, with over 700 million users. Among their Top Voices series are the Top 10 Voices in Remote Work. Three of the top 10 were invited, and all accepted the invitation, to present at Work. Place. Culture. Their forward thinking insights, and immediate willingness to be part of the inaugural event shows this was a cutting-edge concept and timely platform for this growing audience.
Execution
A celebration of remote work … all planned and prepared remotely.
This event was delivered in partnership with the City of Dubrovnik, the Dubrovnik Tourist Board, media partner Total Croatia News and event design by Saltwater Nomads. It was supported by the Digital Nomad Association (DNA) Croatia and Croatian National Tourist Board.
There were multiple venues and a global audience.
The planning and preparation was by an entirely remote and distributed team, based in Croatia, Australia and Lithuania.
Interactive and Livestreamed
The program was hosted using the interactive Hopin hybrid event platform and simultaneously livestreamed via Streamyard across Hopin, Facebook and LinkedIn.
Speakers Network
The speaker network joined virtually and in person. This included pre-recordings, as well as livestreamed sessions.
The event delivery was possible by the established network, support and recommendations for the City and Tourist board, DNA Croatia and partners, demonstrating a positive collaboration between public, private and not-for-profit sectors.
Measurable results
Workation Bookings. LinkedIn 'mega' reach. Ongoing business collaborations between destinations, speakers and businesses.
Workation bookings
A direct result from three sets of companies booking team reunions in Dubrovnik, after direct contact with the event organiser.
LinkedIn Mega Reach
Below are sample views from a keynote speaker who will remain anonymous.
Remote Work conference posts:
Post 1 – 81, 621 impressions, 1061 engagements
Post 2 – 14, 875 impressions, 126 engagements
Individual Article: 8,150 impressions, 189 article views
Media reach through the Total Croatia News series of articles, also published in local media.
A large component of this intended audience are on LinkedIn – with close to 1 billion members. Following the event, a senior member of LinkedIn's remote policy contacted the event organiser, praising the format and expressing interest in future collaborations.
The event was promoted multiple times on the 80,000 member strong Remote Workers on LI group. Further, one of the top voices remained for a month as a City ambassador, promoting this stay on the platform and with the publication of a digital nomad guide to the city.
Ongoing business collaborations between destinations, speakers and businesses are a natural by-product of conferences. At Work. Place. Culture. Conference, destinations partnered with speakers and digital nomad communities – and the popular Remote Life Podcast went on to feature prominent speakers following the conference. Future exchanges are planned, including in Albania, Scotland and Australia.
The Work. Place. Culture. Conference, is an experience-rich conference designed for remote professionals and decision-makers, it aims to continue to establish Dubrovnik as a destination associated with remote work – especially developing strategic viewpoints.
In addition to a digital nomad focus, extending to matters related to all remote professionals means Dubrovnik continues to gain global media attention as it addresses sustainable tourism and how it relates to issues relevant to multiple industries and policy-setters, globally.
Now is the time companies and policy-setters need to reimagine and reconfigure what the world of work looks like. Remote professionals, especially those in distributed teams, are looking for ways to reconnect and redefine company culture, as well as influence new policies impacting performance, retention and wellbeing.
As "Work From Anywhere" (WFA) becomes a stalwart in company EVPs, destinations who support this dialogue are expected to attend, and further build their profiles.
The messaging remains consistent – and was shared across news channels, including a series of articles on Total Croatia News, and the online platforms for the City and Tourist Board of Dubrovnik, DNA Croatia and the channels of all invited speakers, destinations and digital nomad associations.
The use of sustainable practices
This event was produced with a focus on environmental, economic and social issues.
Sustainable travel:
The event MC made an overland journey from the UK to Dubrovnik, using rail, road and sea to arrive.
Hybrid and Longtermism:
By choosing a hybrid format, virtual attendance allows for less impact on the environment. The emphasis on longstays with the Croatian digital nomad visas supports a sustainable direction.
Economic:
This event was held in a 'lower season' with an emphasis on corporate groups, namely the widely reported 'off-sites' many distributed teams are holding.
Environmental:
Along with the benefits of virtual attendance on the environment, each day's venues were mostly accessed by public transport and by walking.
Social:
A longterm vision to build community was evident from the strong collaborations between speakers and destinations. Representatives from numerous destinations were present.
The panel on sustainable digital nomadism enabled viewers to understand the goals of digital nomads and their awareness of their impact, and the role of content creators, decision-makers, and tourism professionals.
---