Basic Event Information
Date: 10-17 June 2022
Location: Zadar and region, Croatia
Organiser: Saltwater Nomads
EVENT CATEGORY: CATEGORY B2C
EVENT SUBCATEGORY: Best Festival
EVENT FORMAT: HYBRID
---
---
Event description and key objectives
Where can you 'down tools' and reach a mountain peak with no wifi signal, see Ottoman and Roman ruins, Tesla's birthplace or escape to a river, lake or island within 1 hour?
From 10-17 June, the first ever Zadar Digital Nomad Week was held in Zadar and the region. It follows the format of the acclaimed Zagreb Digital Nomad Week held in 2021.
Over 7 days, a selection of influencers explored the under-discovered, under-the-radar places around Zadar, even going under-ground (eg. wine cellars and caves). Online, hundreds watched over 30 speakers covering sustainability, lifestyle, women's entrepreneurship and masterclasses in podcasting, writing and sales.
Key objectives:
Digital By Nature
Build in outdoor and active elements to demonstrate building in a daily practice of 'digital disconnection' by reconnecting with nature.
Promote Off the Beaten Path Areas
We wanted to hear "I would never have come here, so glad we did".
Empower Audience
Income-generating masterclasses and workshops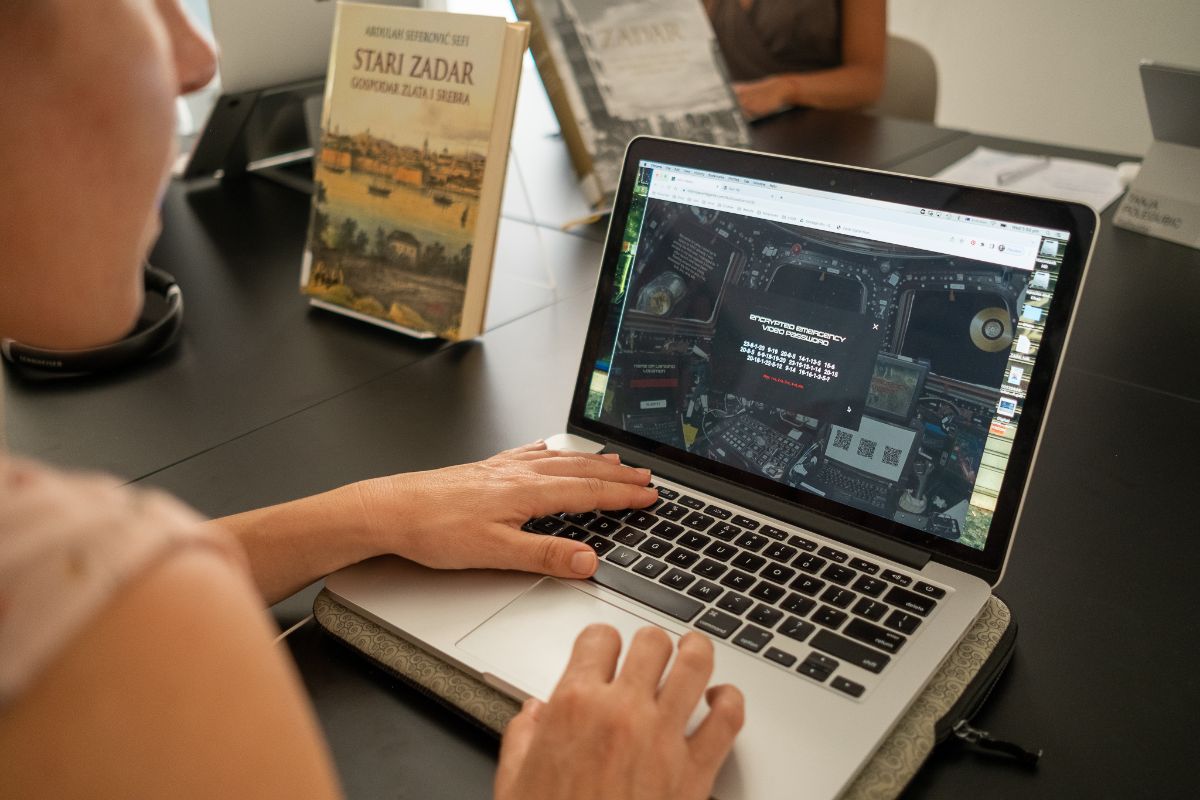 Key challenges
Several areas stand out as the challenges for the event.
* SUSTAINABLE TRANSPORT
* HYBRID EVENT IN MULTIPLE VENUES
* BUDGETS
1. SUSTAINABLE TRANSPORT
The event venues were positioned within walking distance within the city of Zadar. Where the excursions extended to the wider region, car pooling and electric vehicles were used. Keynotes were delivered on kayaks and during an overnight mountain hike – bringing in .
2. HYBRID EVENT IN MULTIPLE VENUES – INCLUDING ON A LAKE
This event was delivered as a hybrid – online and in person. Recording on water proved a challenge, mostly around safety and pausing the session twice due to currents.
3. BUDGETS
Covid 19 has still kept public spending and sponsorships at a conservative level. Further, looming inflation forecasts also kept the event budget to a minimum due to various global factors.
Creativity
Zadar is ranked as one of the fastest growing hubs for digital nomads in Croatia by Nomad List. The CEO of Wifi Tribe recently dubbed it "the one to watch". Easily accessible by road, sea and air, with an abundance of nature and recreation and a growing coworking and business community… it has fast become a "get in now" destination – and this event showcases highlights – including the wider off path region.
From 10-17 June, Saltwater Nomads presented the first ever Zadar Digital Nomad Week an event supported by the Digital Nomad Association Croatia, KPMG Croatia, Cognism, Authland, Safety Wing, the University, City and Tourist Board of Zadar. With support from the Australian and Netherlands embassies in Croatia.
The event featured over 30 speakers in person and virtually, including experts in remote work, lifestyle and business.
Its format was outdoor-rich, showing the ease and speed you can switch off and incorporate 'digital disconnection' into daily life.
Innovation
Zadar's recent role in the European Union's 2CODE project and Cross Border Coworking collaboration brought local stakeholders, such as the City of Zadar and University of Zadar (2CODE Project Partners) together. Support from the Zadar Tourist Board, tech businesses (eg. Authland and Cognism) and Inovativni Zadar demonstrate the local ecosystem is now forming a fusion between an external audience, allowing greater opportunities for collaboration.
The format of the event also demonstrated meeting the objective of focusing on nature can be achieved; live participants can enjoy an in-person experience, which can then be edited for later viewing. This in itself is in alignment with the asynchronous (asynch) approach many remote workers and digital nomads take in their work.
Asynch, public-private collaboration and an emphasis on nature have interweaved to create a week-long program which is skills-building, network-building and improving wellbeing.
Execution
In person, Zadar Digital Nomad Week drew on the nature-based elements in the region. While online, skills building with on-demand replays.
A ride in a Tesla to Tesla's birth place in Smiljan, 50 kilometres 'as the crow flies' from Zadar.
Nin Mud Baths
An overnight hike in the Velebit Mountain Ranges at National Park Paklenica
Maskovica Han – the western-most example of Ottoman architecture in Europe
Croatia's largest lake, Vrana Lake – a RAMSAR wetland site and bird sanctuary
An award winning suburban winery, for a live podcasting masterclass with wine tasting.
Networking overlooking the Kornati archipelago
An interactive "puzzle picnic" with clues across Zadar, including the Zadar Sea Organ
Tax, Career and LinkedIn masterclasses in coworking spaces
Nomad Table, a dining meetup, held next to Byzantine and Roman era monuments in the heart of the city.
And… a glimpse of Antarctica. Our final day keynote speaker is a 44-time guide to the ice continent, sharing her experience as a nomad in Antarctica.
Measurable results
Key influencers in the remote working field shared their involvement in Zadar Digital Nomad Week across their online channels. Here are some results.
LinkedIn:
Featured posts on the largest LinkedIn group, "Remote Workers on LI", with exposure to over 80K members. There was an average of 95-lifetime views per online session (11 total). Total 1,045 replays of the online sessions.

Speakers and Media Platform Audience

The 11 online speakers have a collective audience of over 3M followers across social media and podcast channels.
Total Croatia News articles – 4 in total. Platform reach is 600,000 per month on website.
LinkedIn speakers' highest performing posts average 400 engagements per post.


Masterclasses and Workshops:
300% growth on LinkedIn from one masterclass participant.

New clients for speakers – 39 new signups for instructors who offer consulting and courses.

Website newsletter sign ups – 89 newsletter signups with 26 Zadar nomad booking enquiries received for 2022 visits.
The long-term communication goals are to position Zadar as an ideal base for the nature-loving nomad and remote worker passing through the region. The wide range of speakers were mostly experts in content creation, tech and the remote work lifestyle. This ensures this segment of the intended audience, i.e. those with great flexibility to work and travel, could be empowered and consider Zadar, with the city and region as the backdrop to the 7 day program.
Using LinkedIn to stream and promote through speaker profiles is a key strategy; this platform has over 700 million users who are a direct fit with the audience the event served. Key media platforms include Total Croatia News for ongoing coverage of digital nomad themes in Croatia. And the large networks of keynote speakers from Expat in Croatia and Travel off Path ensure a wide audience can gain insights into opportunities in the city.
The use of sustainable practices
This event was produced with a focus on environmental, economic and social aspects.
Sustainable travel:
Car-pooling, non motor transport (eg. kayaks and hiking) and electric vehicles. Walking and bike-sharing were the main modes of transport around the city.
Economic:
Focusing on under-discovered and off the path cities and regions ensures rural economies can benefit from a longterm visitor, who often visits during 'off-peak' periods.
Environmental:
Along with the benefits of virtual attendance on the environment, each day's venues were mostly accessed by walking, car-pooling and electric vehicle. It is worth noting, the mountain hike was 'zero trace' with all trash items (eg. food packaging) needing to be taken off the mountain, as the huts do not allow trash.
Social:
The emphasis on networking and focused attention in workshops and masterclasses has generated 'accountability partnerships' and ongoing mentoring and guidance from instructors. Engagement with local stakeholders has generated new professional and personal connections; it was a window into a new world for many providers (eg. wineries, cowork space staff and even drivers).
Hybrid and Longtermism:
With a hybrid format, virtual attendance allows for less impact on the environment. The key speakers had remained in Croatia for an average of 1 month, opting for immersion rather than fly-in, fly-out visits.
---