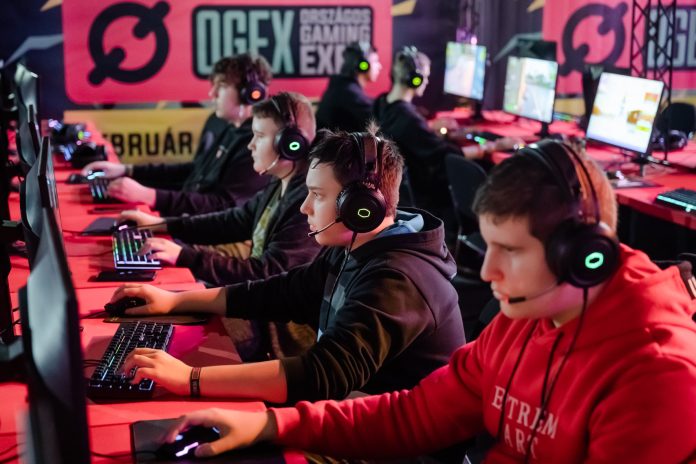 Basic Event Information
Date: February 18 – April 2, 2022
Location: Győr, Zalaegerszeg, Szombathely, Székesfehérvár, Nyíregyháza, Debrecen, Pécs, Kaposvár, Szekszárd, Szolnok, Békéscsaba, Szeged, Salgótarján, Miskolc, Kecskemét, Eger, Veszprém, Tatabánya, Budapest (Hungary)
Organiser: Lounge Group – Visual Europe Group
Client: One Million for Hungarian Esports
EVENT CATEGORY: CATEGORY B2C
EVENT SUB-CATEGORY: Best Brand Activation
EVENT FORMAT: HYBRID
---
---
Event description and key objectives
The National Gaming Expo (OGEX 2022) is the first series of national gaming events to be held in individual cities of Hungary over the course of 2 months. On the one hand, the gaming road show provides rural residents with the opportunity to try their hand at various video games, board games, video game competency assessments, and other games that require physical activity, and on the other hand, the FIFA22 national e-sports competition, since the city finals are held here. Hosts, e-sports experts and influencers take care of the entertainment and professional part of the event, so everyone can find the areas that make it worth visiting the individual stations of the National Gaming Expo.
Key challenges
One of the main goals for the event was to enhance and develop the esporting community in Hungary, and regarding this, our main challenge was to reach a high number of crowd, which was represented in numbers. Numbers such as the views on the streaming provider's platform, and numbers of the visitors on the site. As well as, this caused several difficulties on site, as we needed to maintain the event not only physically but in online form as well.
Innovation
The National Gaming Expo is a unique initiative so far, as it is the first series of events in Hungary that visited all rural cities. We did not only create opportunities to try out the games, but we also made serious efforts to let visitors know what knowledge and what opportunities lie in e-sports as an industry.
Execution
Serious organizational work and very quick response – this is what characterized the event. We held 20 events across the country, which would not have been possible without dedicated partners, on-site supporters and the enthusiastic attitude of our direct colleagues. Of course, this event was also about entertainment, which we realized together with diverse stage programs and videographers and content producers known and admired by young people.
Measurable results
42 hours of broadcasting, more than 15 different programs per city, a FIFA competition with a total prize of HUF 2.7 million, nearly 7 million people reached on social media platforms.
Communication
OGEX created a good opportunity not only for visitors, but also for local organizations dealing with e-sports to meet their audience, current and future members, e-athletes, and parents. On the other hand, the visitors also gained insight into the operation and regulation of e-sports organizations, which answered many questions and doubts, mainly from the parents' side. An important benefit of the event was that we were able to learn first-hand about the situation, opportunities, and plans of e-athletes and their organizations across the country.
The use of sustainable practices
Instead of paper-based marketing and other purpose materials, we strived for digital display. At the National Gaming Expo, we used the same tools as at the roadshow, thereby reducing waste production.
---