6 .Festival, 8. Cultural/Music Event
Event Description and Key Objectives
With Castle Days we commemorate an important day in Castle's history: on May 16th, 1905, mayor Ivan Hribar bought the fortress from state authorities for 60,200 crowns, saving it from further decline. The Castle became the property of the city of Ljubljana. The visionary mayor had big plans for the castle, which are being realized more than a century later as the castle has become an important cultural center of the Slovenian capital. This year we marked the twelfth annual event, spanning it over two days: Saturday, May 20th, and Sunday, May 21st, 2023. We organized the diverse program for families, focused on sharing the Castle's rich history and cultural heritage. Saturday's "Castle Hocus Pocus" featured entertaining jesters and magicians, while Sunday offered a memorable Medieval Camp in the Castle Park, along with Knights' Tournament. Apart from the carefully selected program, visitors were able to explore the Castle premises for free on Sunday. They had access to the Viewing Tower, the Virtual Castle, Exhibition of Slovenian History, and the Museum of Puppetry.
Castle Days are held outdoors, so the weather conditions are one of the most important factors while planning the event. In case of bad weather, we always determine alternative dates in September. This year, bad weather was only predicted for Saturday, so we decided to hold the event in the originally planned May date anyway and instead changed location. From the Castle Courtyard, we moved all the events indoors – in the Castle Halls. This required quite a few technical and organizational adjustments.
Basic information about the event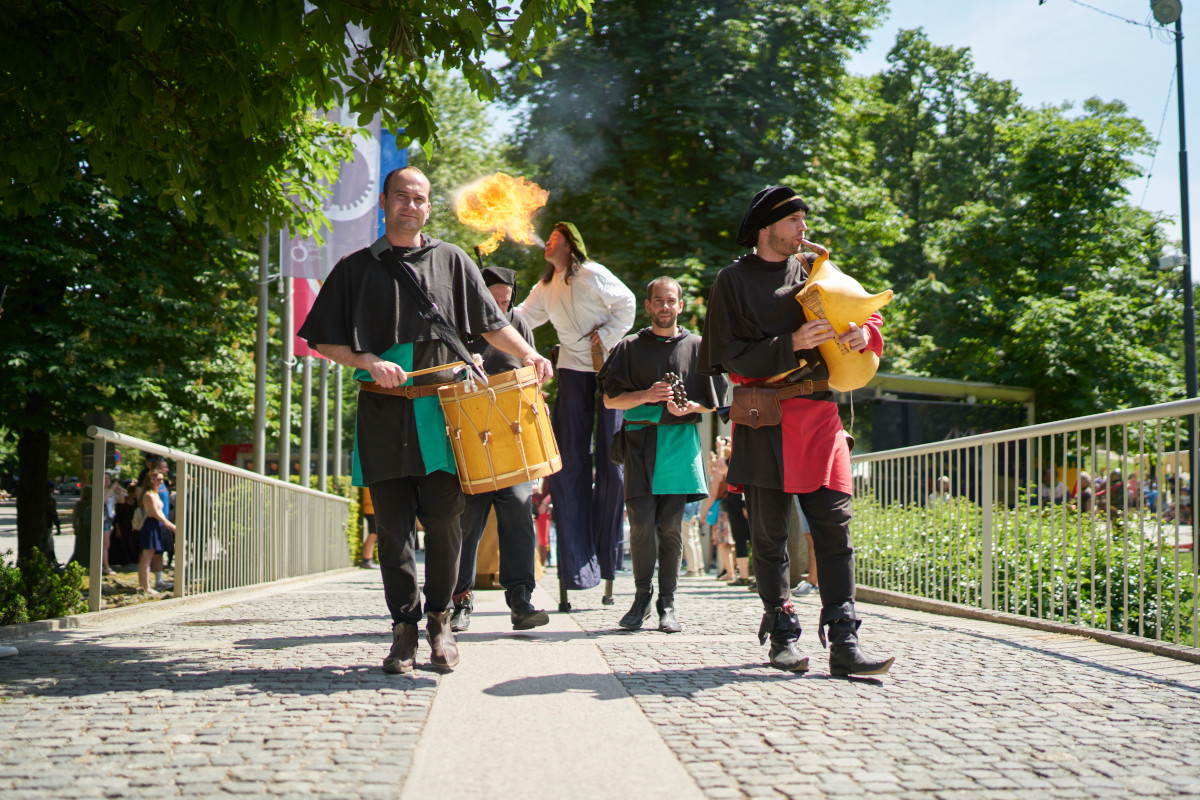 Ljubljana Castle is a late medieval fortress with an incredible interesting and turbulent past. Castle Days have a special charm thanks to the exceptional historical atmosphere. With the event, we want to conjure up a part of the past for visitors and emphasize this unique historical atmosphere, focusing mainly on medieval events and activities intertwined with contemporary offer of Ljubljana Castle.
Each year, we enhance the program with fresh and contemporary content. Initially, Sunday events held great significance, featuring a Medieval Camp in the Castle Park. Visitors had an opportunity to learn about medieval handicrafts, witness knightly duels, tournaments, animated performances, and falconry displays. This year, Sunday's events took place in two main venues: at the Castle Courtyard and in the Castle Park. Our technical team ensured flawless execution. Every year we strive to expand the Saturday program, carefully selecting a theme related to the Castle's contents. This year, castle jesters and wizards took center stage, captivating visitors with their performances. On top of that various workshops allowed visitors to explore their creative and magical abilities. They were able to attend »School of Magic«, »Bottles of Magic Spells«, »Circus Workshop«, »Illusionist Workshop«, and the »Creative Workshop: Conjure a Dragon« among others.
We always start planning the event at least half a year in advance. We have been working with some of the performing groups for several years and they have already become an indispensable part of the Castle Days, but we strive to invite new faces to participate every year. As a result, we cooperate more and more with selected guests from abroad. Before the event, we always take care of all necessary permits and in accordance with all instructions and guidelines for the safety of visitors at the event itself.
Since all the contents of the Castle Days are free of charge, the financial investment is not directly repaid. The results, however, are long-term, as the event is visited by a diverse audience, especially families with children, to whom we pass on knowledge about the traditions and customs associated with Ljubljana Castle and its surroundings. Our goal is to actively participate in building a positive and respectful attitude towards cultural heritage among the younger generations, since they are the ones who will one day made decisions on the future and fate of jewels of cultural heritage, such as Ljubljana Castle. We consider the Castle Days to be a very successful event, as year after year we record an increasing number of visitors and incredibly positive written and verbal responses. We are especially pleased by the fact that visitors recognize the added value and keep coming back.
The Castle Days are so called traditional event of the Castle, which is communicated mainly to the local public. Thus, we use all internal channels for communication (website, monthly brochures, social networks, etc.). A small advertising campaign is also implemented every year. Here, the target audiences are mainly families with children (mainly the 1st and 2nd triad of primary school), grandparents and everyone who has an affinity for history shown (also) in a playful/fun way. Thus, we focus on an appropriate selection of media that cover such groups and media that cover the general public, etc. The event is communicated through several different channels and media – from radio, print, OOH, digital.
In 2020, Ljubljana Castle joined Green Key, the leading standard for environmental responsibility and sustainable operation in tourism. We prioritize sustainability in all business decisions, setting an example for visitors. This principle guides Castle Days. Sustainable access to the Castle is encouraged: climb the hill or use the Funicular Railway. Castle Days offer reduced-price return tickets. Visitors and performers are urged to bring their own water bottles and use drinking fountains in the courtyard and park. A backstage area was set up in the Dragon's Den this year, providing 200 hot meals for performers with reusable utensils. This successful practice will continue. Carefully selected local catering providers offer varied, seasonal food, aiming to reduce waste and use recyclable packaging. Additional trash cans were placed in the Castle Park during the medieval camp, promoting cleanliness and environmental protection, with waste separation ensured.