Hisense East European Partners Conference
1. Conference, Congress, Convention
Event Description and Key Objectives
East Europe Partners Conference strived to amplify the key mission of HISENSE/GORENJE brand and provide key partners a unique opportunity to experience the innovation and quality of the appliances through their simplicity. Over three days, the event offered an enchanting sunset concert atop water at Sečovlje Salina Nature Park, a gala dinner with Luka Šulić's mesmerizing performance and cuisine by renowned chefs Luka Košir and Luka Jezeršek. A conference featured keynote speakers discussing future trends in Retail, Entertainment, and Home Appliances. Lastly, guests explored truffle hunting and crafted their own olive oil at Lisjak. An unforgettable experience blending culture, entertainment, and culinary delights! Key objectives of the event were: • nurture the existing business relations • showcase and highlight main MDA appliances for Hisense and Gorenje brand • outline Hisense Europe future direction with 3 key takeaway messages of inspiration and innovation rooted in local, focus on quality with strong European production and long lasting tradition of successful growth.
We have succesfully tackled all of our challanges, despite there being many during the whole process. Embracing one of our main challanges in the preparation of this multiple day event, we sought distinctive event locations, ultimately finding Sečovlje Salina Nature Park, rich in a century-old salt extraction tradition. Only a week ago, after the end of salting season, the salters collected their annual harvest from the salt pans. Therefore, we caught the perfect timing to not only cherish the abundance of nature and its tradition in Sečovlje Salina Nature Park, which would otherwise be nigh impossible. Harmonizing local Slovenian traditions (Gorenje brand) with global and future trends elements (Hisense) crafted a memorable three-day experience and one common story. One of our greatest challanges was securing Luka Šulić, renowned 2Cellos member, amidst his farewell tour. Lastly, logistics proved to be a challanging task, as we had to coordinate more than hundred important guests between four different locations and we had to adapt the timing as well as to the rules and regulations of those locations.
Basic information about the event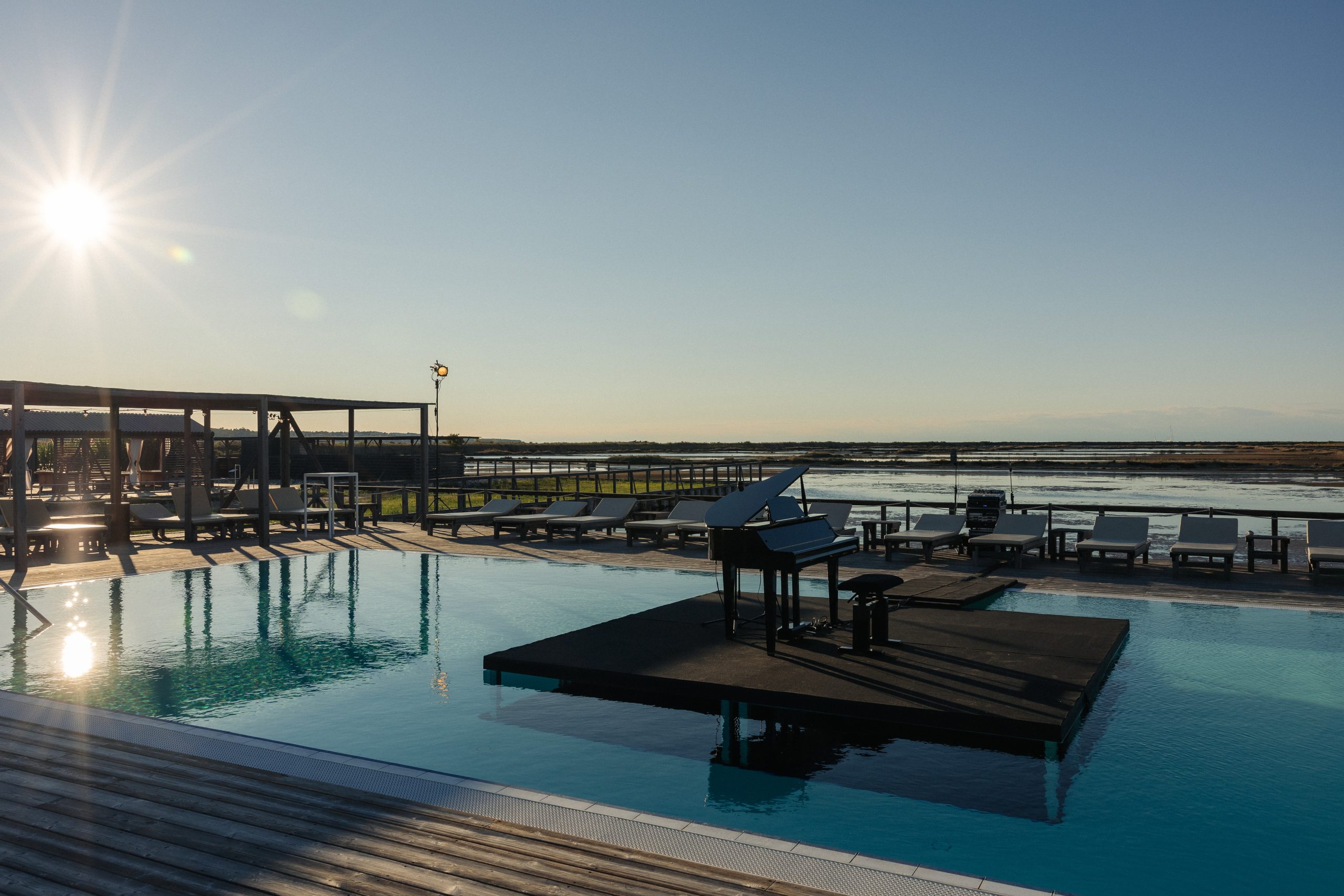 Combining brand's future aspirations, based on innovative technology, and tradition that stems from local specifics, not just in terms of heritage but also through uniqueness of the area from which brand originated, resulted in an event that successfully merged the unmatched UX of home appliances with emotional benefits of their everyday usage. To achieve that we developed an event that gives participants complete sensory experience by activating all five senses in every step of the conference, by celebrating local uniqueness of the region. Full sensorial stimulation brought another experiential dimension to conference, leaving a lasting impression not only about the practicality and innovation of the brand's product range but also reinforced brand's ultimate promise to bring happiness to every user. We have strived to keep everything on the slovenian coast. Slovenia is not only a birthplace of Gorenje that was built on persistence and tirelessness of Slovenian character, geography, history, and heritage. Here is also the port from where all the innovative products took sail, as Gorenje has been our daily companion for more than 70 years. Lastly, we combined the name Luka, which also means port in Slovenian language, with the cultural theme of the event by bringing Luka Šulić, member of 2Cellos, Luka Jezeršek and Luka Košir, 2 of the greatest Slovenian chefs.
We tried to emphasise the innovativity of the event in every aspect of organisation, however, there were a few elements we were the most proud of. Firstly, the piano stage floating atop the water surface of the Lepa Vida Pool. As the sun dipped below the horizon at Sečovlje Salina Nature Park, guests were able to listen to the piano concert, forging an enchanting moment that will linger in their memories. In a similar fashion we also set the scene in Monfort salt warehouse, where Luka Šulić's performance unfolded on a revolving stage adorned with a natural olive tree. There, the mapping of the interior also took place. The digital olive tree, which was projected across every wall and screen and slowly growing throughout the gala dinner and was in its essence connected with entire narrative and story of the event. As the evening unfolded, the digital olive tree grew in tandem with the unfolding story, culminating in a breathtaking spectacle during the Gala dinner.
The flawless execution of the event stands as a testament to well organised project management, dedication from the staff and precision logistics. Spanning over a year of preparation, the journey began with countless visits to the four event locations, each requiring specialized permits to their unique rules and regulations. Navigating the historical traditions of Gorenje and Slovenia, while combining that with the modern products of Gorenje Hisense brand, demanded constant communication with the client. Gaining access to their archives and asset features was essential in creating narrative that captured the essence of the event. Logistics played a pivotal role in ensuring the event's smooth flow. From closing the entire coastal belt at Monfort for guest arrival to facilitating transport access at Lepa Vida Hotel in Sečovlje Salina Nature Park. During the event, superb project management was needed to ensure smooth course of the event, from timeline adherence to coordination of guests, hosts, performers, and subcontractors. The collaborative efforts of numerous individuals ensured the flawless execution of the event, culminating in the ultimate satisfaction of all of the guests.
The event's measurable results met the expectations, validating the investment made by Gorenje Hisense Europe. The primary objective of strengthening relationships with the most important partners across Eastern Europe proved successful. Post-event, a comprehensive digital questionnaire was distributed to all attendees, and the feedback received was purely positive. The key takeaway was the significance of nurturing partnerships and relationships. Attendees expressed how such strong bonds directly contributed to the company's enhanced yearly results. Evaluation of the added value revealed that the project's targeted approach, coupled with creating an unforgettable experience, generated a remarkable return on investment.
The project's communication primarily focused on internal channels, reaching out exclusively to invitees. Personalized invitations were sent, providing essential details, including the event timeline and save-the-date information. To streamline information dissemination, a dedicated website was created, exclusively catering to the event's guests. The website served as a hub for sharing event particulars, such as schedules, venue details, and even photos and videos of the memorable occasion. Significantly, the event played a crucial role within the broader marketing strategy of Gorenje Hisense Europe. It aligned with their vision of communicating future trends in the Retail, Entertainment, and Home Appliance industries. To achieve this, prominent keynote speakers were chosen to impart valuable insights to their esteemed partners and high-ranking officials. The event acted as a platform to foster connections, enhance brand awareness, and reinforce the company's position as a pioneering force within the industry. Overall, while the event was communicated exclusively to invitees, its strategic inclusion in Gorenje Hisense Europe's marketing approach showcased a profound commitment to innovation and collaboration with key stakeholders, elevating the event's significance beyond its exclusive guest list.
Embracing sustainability as a guiding principle, our event took conscious measures to minimize its environmental impact, foster community engagement, and prioritize the well-being of attendees. A profound commitment to local and traditional values underscored our approach. From farm to table, the culinary experience showcased our dedication to sustainability. Esteemed Michelin star chef, Luka Košir, ensured that the event's food was purely organic and self-grown, reducing the carbon footprint and supporting local farmers. In the spirit of celebrating Slovenia's unique heritage, each attendee received Slovenian olive oil, which was mixed and prepared by each of the guests themself, encouraging a personal connection to the country's culture, as well as locally made pralines infused with Piran salt, a taste of the region's distinct flavors. Transportation logistics were thoughtfully handled in collaboration with GoGreen, a service renowned for its modern tools, equipment, and vehicles, all designed with environmental consciousness in mind. This approach ensured that our guests enjoyed a seamless travel experience while minimizing environmental impact. In essence, our commitment to sustainability permeated every facet of the event. By prioritizing local resources, reducing waste, and supporting eco-friendly services, we created an unforgettable experience that not only celebrated tradition but also left a positive imprint on the environment and society.