Online Brainiacs – the largest online quiz in the World
Event Description and Key Objectives
As the ultimate answer to the rapidly growing number of children, facing numerous online threats, A1 Slovenija created Online Brainiacs – a custom-made educational program on online safety, and offered it to Slovene primary schools free of charge. Since its start two years ago, 9,000 primary school pupils have already been educated. For the ultimate effect of reaching many more pupils and schools, and to promote the program about online safety in general, we created an entertaining and educational live online quiz, with a special and well thought incentive to participate – breaking of the Guinness World Record. The primary aim was to illustrate that learning about internet safety can be fun and entertaining, and it can equip kids with basic skills to independently navigate online risks they face in everyday online interactions.
The biggest project challenge was to convince over 10,000 kids to join the online quiz. The most efficient way was to target communication and appeals through the system of primary schools. At the same time the approach had to be engaging for children and take into account that teachers were already overburdened at work. We addressed the latter by the event execution timing being easily incorporated into their schedule. Moreover, we gave schools ample time and study materials to prepare for the quiz (available on a dedicated website). To make the quiz even more fun, we opted for a famous comedian Sašo Stare, whom children relate to, to be the quiz moderator. A major challenge was also that the original provider of the quiz platform stepped back from the project just 3 weeks prior to the event, fearing they may fail to support the anticipated volume of the participants. Due to the experience and professionalism of the project team, we were able to find another partner quickly.
Basic information about the event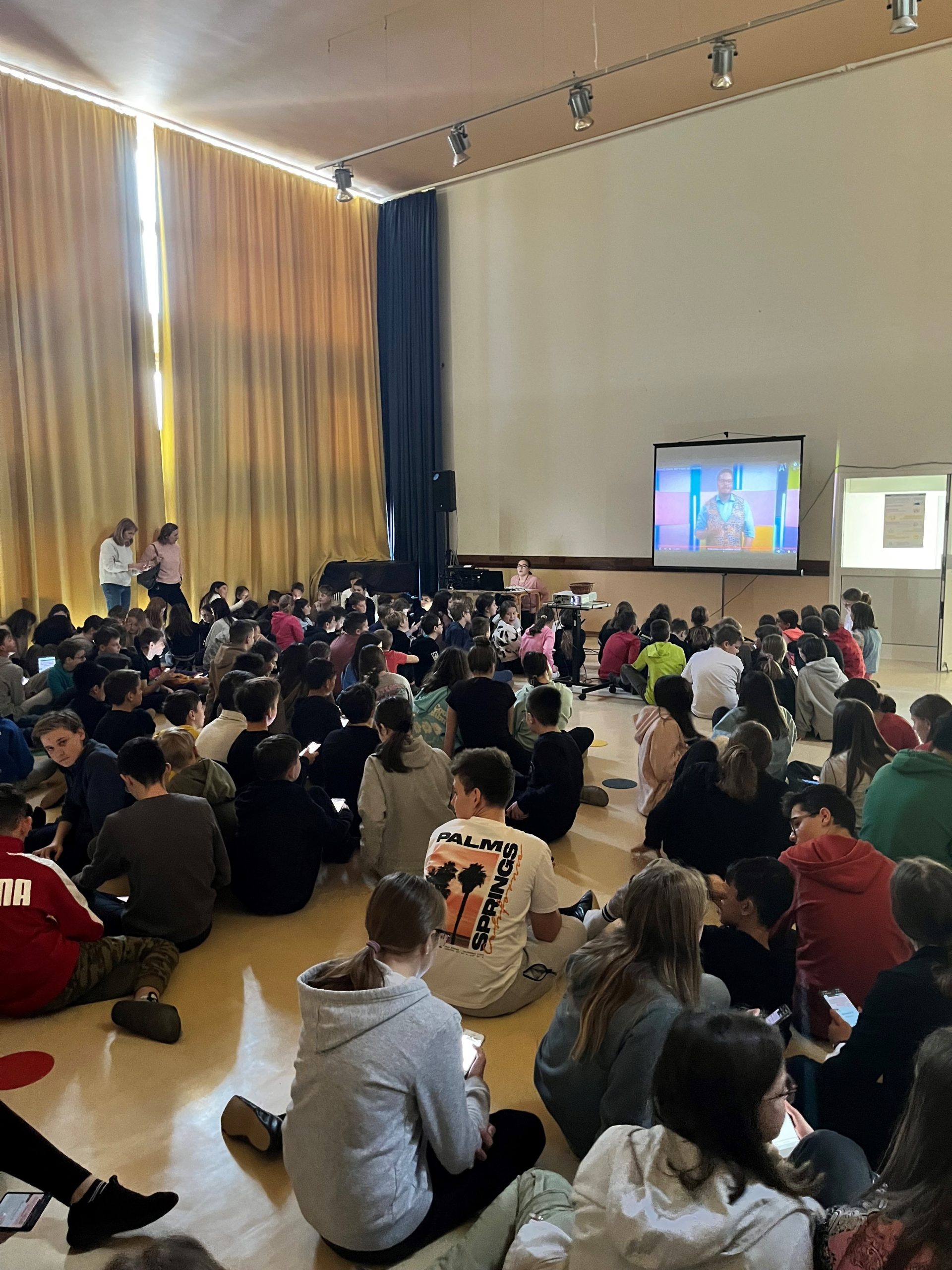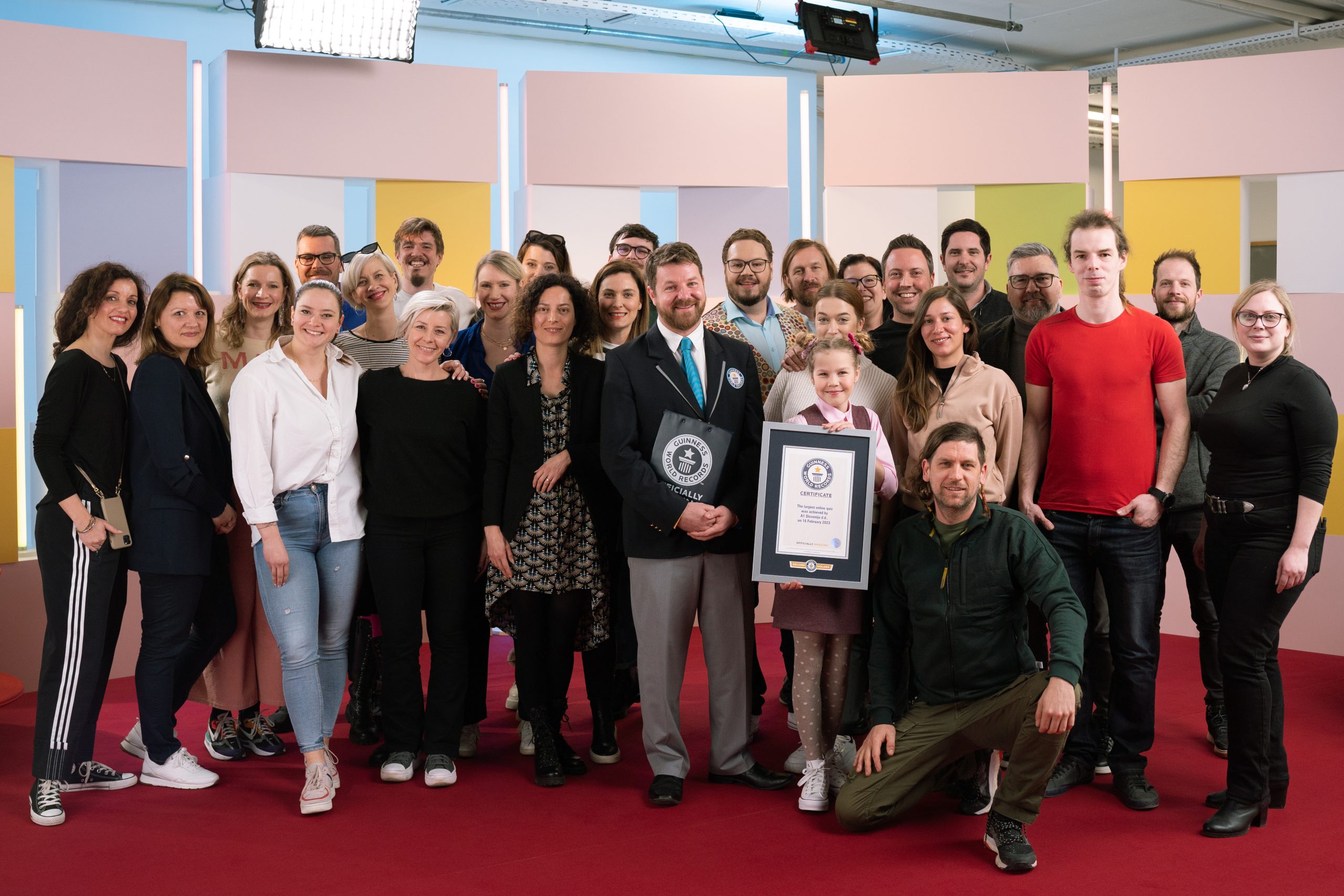 To be able to efficiently educate and entertain a high number of primary school pupils simultaneously, we opted for a live online quiz that kids could join directly from their classrooms in real time. However, if we wanted to attract children to participate, just executing an online quiz would not be enough. After considering several options, we decided on a simple, yet powerful idea – to attempt to break the Guinness World Record for the largest online quiz. This approach would not only significantly increase our participation numbers but would also get a wide media coverage and therefore high public exposure of our Online Brainiacs program – one of our primary event goals. The creative concept was upgraded by a comprehensive creative execution, resulting in a colorful stage and studio designs, entertaining sideline program, comedian Sašo Stare, accompanied by a young moderator Sofia Knez – the representative of the target group - and engaging and powerful digital event graphic design.
Our digital event would not be just a regular online quiz. It had to have an educational note and done to a professional broadcast standard. We needed an ambitious and professional TV environment in terms of content and technical execution, and a professional team, with extensive experience in online events. We had to create an unforgettable experience, where children would not only compete for the title of the most online savvy school, but at the same time work to the same goal – to break the record. Moreover, the event had to support different ways of joining as schools have a limited number of computers or tablets, and not all kids have smart devices. Additionally, we needed to protect children's privacy, but at the same time be able to record how many actually completed the entire quiz. Therefore, we allotted each school with unique codes children used to enter the quiz. The organizer had no access to participants' personal data, but was able to follow detailed participation analytics.
The project lasted 6 months, while we had 2 days for execution. We transformed a studio into a TV production studio with alternative sound & light systems, linked communication stations, custom-made studio design and 4 broadcast cameras. We dedicated 4 hours to rehearsals a day prior, and optimistically dived into the challenge with all our minds and hearts. The successful execution of the project demanded an experienced and versatile team of individuals, combining agencies from PR, digital marketing, event management, digital solutions, working closely with the client. On the day over 30 individuals acted simultaneously and executed their tasks with flying colors. After all the planning we handed reins to the kids. The overall success was all down to how many will turn up, and answer all 32 questions – a Guinness World Record requirement. Children gathered in their respective schools and logged in via a customized and branded quiz platform. The quiz show streamed live on YouTube.
The challenge provided an inclusive and appealing way to engage kids on the topic of internet safety. It allowed us to achieve our overall goal in creating interest on this social issue and strengthen the position of A1 Slovenia as committed to educating children about online safety. Results: Over 20,000 kids took part in the quiz (25% of the overall target group, KPI: 10,000), with 15,225 answering all 32 questions (KPI: 8,000) which means we broke the Guinness World Record by more than twofold. 194 schools participated, just shy of 50% of all primary schools in Slovenia. In a country of 2 mill., the reach of earned media was 18 mill. (KPI: 2 mill.), generated by 157 news items (KPI: 30). The tone was overwhelmingly positive, and Online Brainiacs were mentioned in 69% of generated publicity (KPI: 67%) On social media we recorded 2 mill. impressions, 210,000 video views, while the website recorded 65,927 page views. The total investment of 91,250 € returned 285.515 € in advertising value.
Communication strategy consisted of 3 phases. The first one, running from October 2022 to January 2023 focused on direct communication with schools as this was key to getting the desired number of participants. We also started a social media campaign with a teaser, and later announced the attempt via press release. The second phase was about generating excitement. From January to February 2023, we maintained our correspondence with schools, increased the rhythm of social engagement, including a reveal of the moderator Sašo Stare. We have worked with the media to cover the attempt live in schools. The last phase kicked off on the day of the quiz, where our focus was on securing free publicity. The attempt was overseen by an official Guinness Adjudicator, and we arranged media interviews with A1 representatives, participants, and teachers. A few days later we used the announcement of the three winning schools as another peg to communicate about Online Brainiacs in regional and local press.
Online Brainiacs is a socially responsible project, with a goal to educate children on the caveats of online life. As an internet service provider A1 Slovenia is aware that if they provide access to the internet, they are also partially responsible to keep kids safe online. Therefore, they have in their ESG strategy committed to equip at least 12,000 kids for a responsible use of digital technologies by end 2023. The quiz follows the same principles. In terms of environment, we mitigated our negative effects by holding the quiz online, and by using electronic tools for all our correspondence with schools and the media. The majority of the planning and organizational meetings were also held online, thus minimizing travel. Travel was reduced also by kids joining the quiz from their respective schools.