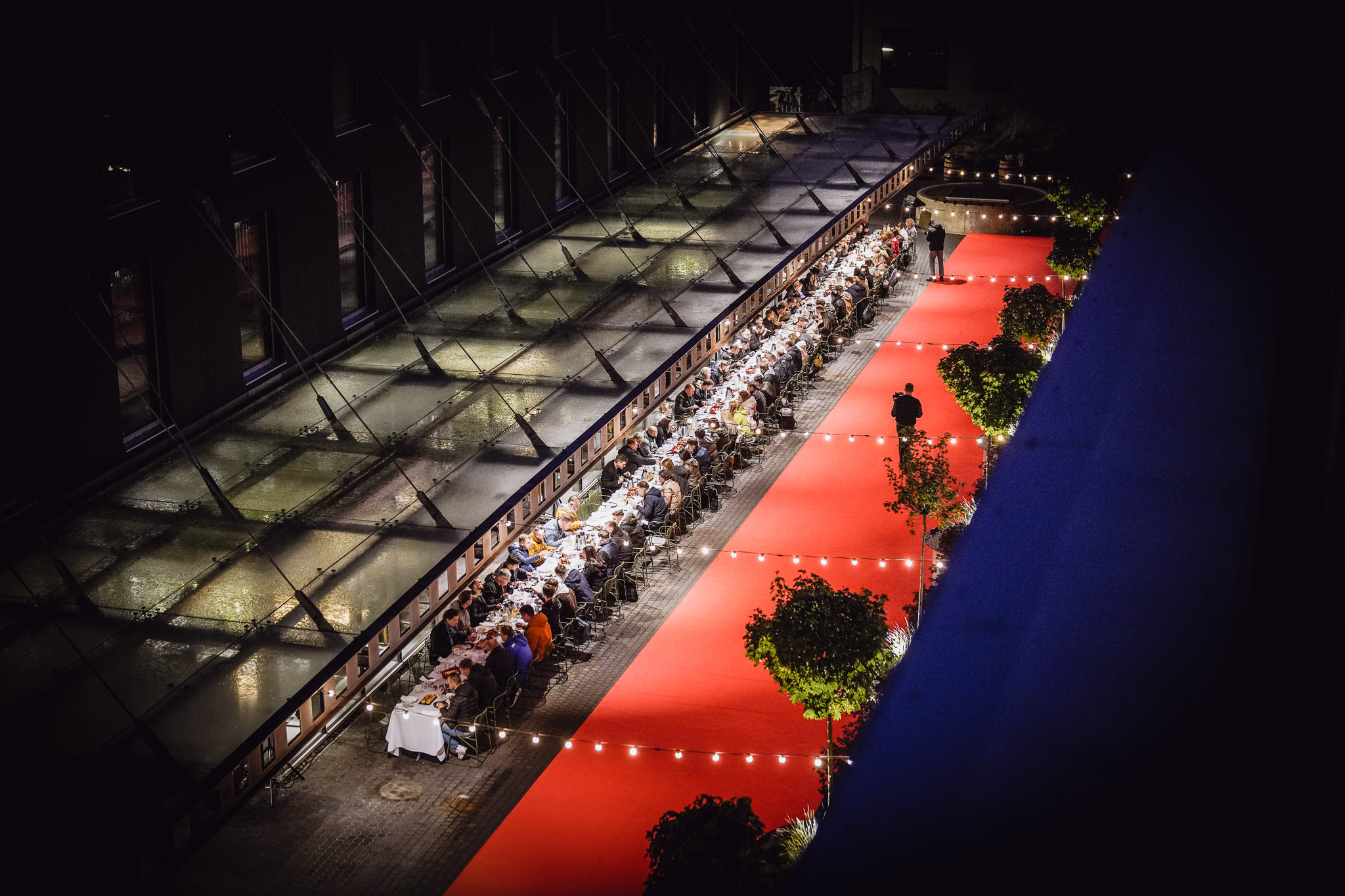 What Did the Princess Say
Event Description and Key Objectives
The primary objective and challenge was to rescue and take over a failing event, creating a unique concept within three weeks and executing a three-day event across two countries. The event was commissioned by a construction development company, which set a primary goal - to creatively integrate their projects completed over the past year into the event program, keeping the final event location and objective a secret until the climax of the event. We crafted a legend titled "What Did the Princess Say?" and brought to life a three-day event filled with numerous 'wow' effects. On this adventure journey, participants experienced the wonder of a red carpet and a 6am greeting from an orchestra through the windows of buildings they had constructed themselves. An unexpected bus explosion set the sequence of events in motion - everyone was locked up in jails, escaped, searched for the princess in Latvia, decoded a message, and built a sustainable city out of sand on the beach
The primary challenge was the excessive consumption of beverages, leading to the need for frequent and lengthy rest stops. Another challenge was ensuring the frequency of the secret event radio station. A change in the conditions of the Latvian castle and a prohibition on disturbing the peace of surrounding visitors a few days before the event led us to transform all planned entertainments into silent ones, utilizing the silent disco format. Driver ambitions to follow their own routes and get lost, yet manage to deliver guests to the final destination before the driving time limit expired, posed another challenge. Additionally, planning and executing the event within a month was a considerable challenge for our team of five, especially with other events in the pipeline.
Basic information about the event
The event's creativity shone through in its unique approach to participant engagement. We creatively integrated the client's properties, showcasing their uniqueness and versatility - a residential neighborhood, a business building and a prison. We creatively unveiled their own creativity - each participant was given a role and a goal - to envision the city of the future and its structures. They had to create a concept overnight, purchase a plot, construct objects, organize open-door days, advertise on social media, respond to petitions from unfriendly communities, and manage the fragility of sand while maintaining high architectural ambitions. Breakfast, an orchestra, an explosion, police, drug addicts, tattoos and a goat in prison, a sand city, organizing a trip with plane, and princess gifts at the airport. The concept, maximum engagement, unveiling creativity, and maintaining unpredictability until the last second were all part of the event's unique charm.
Innovation began when we flipped the event upside down, kicking off our event with a red carpet at 6 am instead of the usual 6 pm. This fresh approach paved the way for new experiences, decisions, and surprises, like a soloist appearing in a city fountain and an orchestra concert awakening a residential area. Organizing such an event in a vast park, managing 150 people where sound systems are banned, was a test of innovative formats. There was no room for error - this is the heart of innovation, creating unforgettable experiences against all odds. Our event embodied innovation, evident in the detailed 25 pages script and high-tech support. In collaboration with Lithuania top partners, we brought to life ideas that posed significant technical and directorial challenges. Moreover a standout innovation was the personal live radio system for each of the 12 microbuses traveling between countries, a test of every expert involved.
The event was executed with a laser focus on precision and efficiency, underpinned by robust project management, staff coordination, and strong relations with the client and partners. The logistics were handled adeptly, ensuring a seamless and enjoyable experience for all attendees. Our partners unanimously agreed that this was a memorable project, both professionally and entertainment-wise, elevating our partnerships to new heights.
The most significant outcome was the deep, enduring friendships fostered within the company through a diverse and dynamic program. Additionally, the collective learning inspired by team formation across different job positions proved highly successful. Understanding each other's roles led to insights into more efficient and productive team dynamics. We successfully organized an international event within a tight timeframe, overcoming the challenges posed by the complexity of coordinating six different locations.
Although it was a private, internal affair with no social media sharing, the experience in Latvia sparked ideas for potential projects in Jurmala. The event served as a teambuilding exercise, fostering collaboration and communication among the team members.
Sustainability was a priority, demonstrated through the use of local resources, waste minimization, and a digital-first approach. A highlight was the "Sustainable City" activity on the Baltic Sea beach, designed to instill a sustainable mindset. Participants used creativity and teamwork to envision a sustainable future city, minimizing material waste and creating sustainable infrastructure. This approach underscored our commitment to environmental responsibility and the promotion of sustainable practices.