Basic Event Information
Date: 10. 04. 2019
Location: Klub K4 Ljubljana
Organizer: FABulatorij d.o.o.
Client: Buzz Sneaker Station
Event type: Product launch
EVENT CATEGORY: CATEGORY B2C – Best Brand Activation
---
Event description and key objectives
In early 2019, Nike began to increase presence in the SEE market (particularly Slovenia, Croatia and partially Serbia) through brand engagement activities, particularly on the BTL and experiential marketing levels. To understand the initial market conditions – all three markets are strong in terms of Nike brand presence, however, it is (or was, rather) limited to the presence in retail locations, sales-oriented ad campaigns, and a rather low level of consumer engagement. To change this, Nike began executing a wide variety of BTL activities for key target groups, partnering up with Buzz Sneaker Station as the retail brand partner in the process. With the support of all partners in the local market, the brand held its very first product launch in the local market (Slovenia), presenting the new Nike Air Max 720 sneakers to relevant local audiences. The campaign was designed as a 360-degree integrated campaign based on BTL activities.
The goal was the creation of a wholesome BTL platform, centered around an event with a bold wow factor and adapted to the specifics of the local market.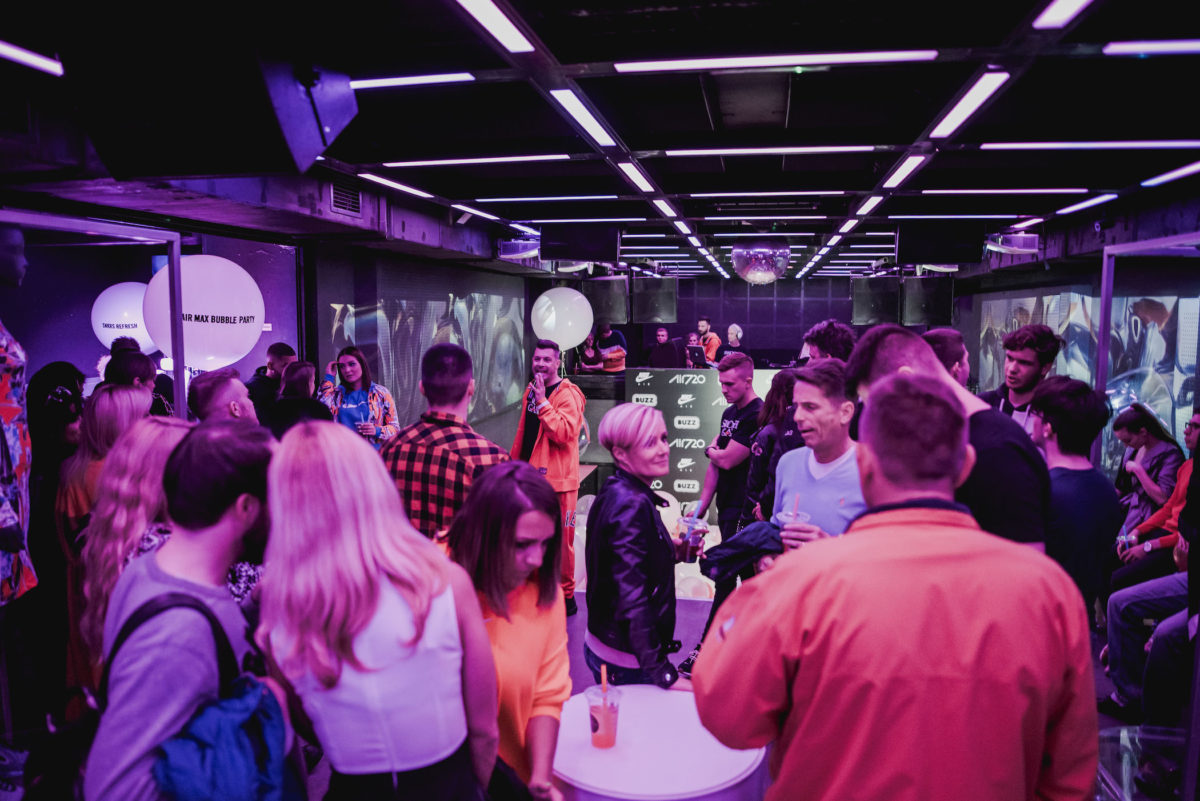 Key challenges
The brands' communication channels: even though Nike is a global brand with amazing recognition and awareness in Slovenia, this is the result of retail relationships (consumers being used of purchasing and using the product), not actual brand interaction. This means that Nike had no established channel of communication (for the media or the event target group). This also includes Buzz Sneaker Station channels, where even if they had existed, their communication was multi-brand and was not meant to engage a specific brand target audience. We thus had to communicate with a digital generation of consumers, without an established platform with reach and credibility in the community. Additionally, Buzz Sneaker Station also entered the market recently, even though through the rebranding of existing retail locations.
The timeframe: due to market conditions and the timeframe of the project, the wholesome campaign had to be executed in 15 days (from receiving the brief to executing the project). These circumstances strongly influenced the manner in which the campaign was created in order to maximize results and spread the reach of activities as much as possible.
The target groups: as noted earlier, Nike had a rather low level of local marketing & communication activities locally, however, is of course still a globally recognized brand that yields interest from a wide range of target groups. All elements of the event had to be adapted to the fact that local marketing activities by Nike attract a wide range of audiences, all of which must receive a unified message throughout the campaign. In addition to this, the main consumer target group consists of members of Generations Y and Z, which are rather difficult to address and motivate, particularly without established channels and with a narrow timeframe.
The product vs. the brand: even though this campaign should launch and exemplify the Nike Air Max 720, the fact that Nike had not made significant brand presence in the past, made this just as much of a brand event, as it was a product launch. The content and communication had to be carefully segmented in order to create a clear line between brand awareness and product promotion.
Creativity
In the pre-event phase, it was crucial to create an effective promotional campaign. 5 ambassadors set off on social media to motivate relevant target groups. In cooperation with regional brand representatives, we chose Mike Vale (famous DJ who also loves fashion), Jasna Vale (very popular socialite), Katja Španja (makeup artist and influencer), Maja Šebenik – Sheby (singer and fashion designer) and Žiga Sotlar (dancer and choreographer). They were comprehensively involved in the campaign.
We also prepared the first official local Nike photo editorial with our ambassadors, published by Grazia as the media partner. This enabled us to have a solid platform for actual interaction with key TGs.
The main creative solution of the event was centered around effectively addressing and reaching key TGs: we partnered up with the legendary K4 Club in Ljubljana and prepared the first product launch in a nightclub to intrigue TGs and add urban credibility to our activities. Furthermore, we addressed the brand vs. product challenge by segmenting the event space: one room made for the product launch and TG pampering, while another room served as a Nike Lab: a place where brand aficionados can engage in experimental activations and win the new Nike shoe. All activations in the Nike lab were meant to promote the launched product, as well as create an engaging experience for the consumers.
The creative idea was thus a pop-up club experiential campaign and a product launch in one. We successfully intertwined entertainment content (supporting brand awareness), product promotion and engagement, as well as sheer fun (the people should, after all, just do it!).
Innovation
An innovative approach to such a project means primarily being able to efficiently and sufficiently implement it into the local market. One of the goals of the event was building and consolidating brand awareness but at the same time it had to be subtle in order not to drive people away. Our solution was also one of the key characteristics of the Nike Air Max 720 Launch in Ljubljana: the right choice of location for the event, which was very much in line with the brand itself, but a bit unusual for this kind of the event, which was essentially a brand promotion event and it started at 6 pm. We decided to organize the event in a popular night club K4 Club in the heart of Ljubljana.
For one evening therefore, K4 Club became "Club Nike Air Max". The location offers lots of digital branding space (on the walls, ceiling, on their old retro but functional TV's etc) we conveniently made use of. The location was perfect for this event and we were able to rebrand it in Nike as much as we needed: the entrance, all hallways and every area accessible to guests was Nike Air Max 720 branded. By using an underground, clubbing type of location, we could equip the space with a rather strong branding component. LCD screens and projectors were used, as well as custom-made lights programming to accommodate the brand visuals, and more. Scenographically, we approached a merge between the worlds of clubbing and fashion – the dancefloor became an exhibition of the latest Nike Air Max collection. We also transformed the centre of the dancefloor into a bubbly photo activation, thus employing the symbol of the bubble as of the key parts of Nike Air Max.
Execution
Spatial division of the club allowed us to create several interesting and interactive areas: in the main area where the main programme of the event was happening we had a DJ, innovative photobooth (Air Max Bubble Bath – a space filled with balloons which made a perfect thematic scenery for interesting and social media sharable photos) and Air Max Bubble Tea Station where we served bubble tea. In another space we had Nike Lab where guests had to successfully finish 3 interesting and very brand-related experiments – those who were successful were placed in a draw for the main prize – one of the three pairs of new Nike Air Max 720.
In the hallway, connecting both areas, we also had SNKR Refresh Station where guests had their sneakers professionally cleaned.
The host of the event was Klemen Bučan, very popular DJ and comedian, he was also DJ in the Nike Lab area. JAMirko was the event DJ while campaign ambassador and singer Maja Šebenik (her artist name is Sheby) was a special guest performer and her performance was accompanied by Jernej Kozan's popping dance moves. Campaign ambassadors also participated during the official part of the event when Air Max 720 was presented – they shared their positive experience with 720 and what slogan "Just Go Bigger" means to them.
Measurable results
Over 250 people attended the event (objective exceeded by 67%)
Over 30 editors, journalists and digital influencers attended the event (objective exceeded by 120%)
83 people successfully completed experiments in Nike lab (objective exceeded by 66%)
Communication
Communication was an important part of the project, because on top of the event management the client also needed wholesome communication support for comprehensive coordination of influencers campaign and media relations. As such the campaign was designed as a 360-degree integrated campaign based on BTL activities from the very start.
143 user-generated social media posts (objective exceeded by 91%)
Cumulative reach of ambassadors' content was 626.300 (objective exceeded by 25%)
11 earned media posts in key national lifestyle media (objective exceeded by 120 %)
Through carefully chosen influencers as ambassadors the right target groups were addressed in the Phase 1 of the project. Ambassadors got specific brief but they had creative freedom to address their followers in their usual tone of voice which led to genuine and effective communication that led to great results.
The day after the event a press release was sent to relevant media with an outcome of 11 published articles in various media outlets. 2 of those were a full page articles in print magazines, 1 was ½ page and 8 were online articles.
At the event itself the whole scenography and branding was very instagramable and it resulted in over 140 social media posts (mainly Instagram stories) by visitors of the event (campaign ambassadors and organizers not included).
The use of sustainable practices
There were several reasons why sustainability was an important part of the project planning and execution. Firstly, we have to note that Nike as a company signed on to the Fashion Industry Charter for Climate Action, a commitment under the United Nations Framework Convention on Climate Change and thus joined UN Climate Change and global brands, retailers and suppliers in accelerating some of the industry's most aggressive climate targets yet. Environmental policies present one of the cornerstones of the modern fashion industry, with Nike and other key brands spearheading the effort through various different campaigns and global initiatives.
In addition to the global brand directions, one must note that the key TGs are members of a generation that is increasingly environmentally aware (basic example is this years Youth for Environmental Change effort in Slovenia).
The project had sustainable practices at two main levels. Firstly, the communication itself. Every step of TG interaction was designed to be digital, with printed materials used only at POSs of Buzz (not distributed). Important part of the sustainability was the choice of location – with environment in mind we wanted a space which enabled us to use as much digital branding surfaces as possible – this resulted in much less printed materials.
Communication wise, we employed the ambassadors to always include messages about sustainability and environmental care in their interaction with TG. There were not direct promotional messages, but rather a fils-rouge of values that should spread across communication.
On the event itself a lot of existing branding from the stores was used which wasn't only sustainable and environmentally friendly but it also meant that visual identity of the Nike brand and Buzz Sneaker Station was very much present which benefited our goals of consolidation of the brand image on the market.