CONVENTA BEST EVENT AWARD
Apply with your event!
Conventa Crossover draws attention to excellence in the meetings industry with an award for the best event in New Europe. The intention is to award those events that are not only innovative and creative, but also effective – those that achieve, or even exceed, their long-term communication, marketing, and business aims.
The event's idea and design are dedicated to all formats of live marketing – marketing, triggering emotional interactions between brands and buyers, and between ideas and meetings attendees. Representatives of the best event organising and live marketing agencies from all over Europe will share their experiences and suggestions all the way from event organising to guerilla and sensory marketing.
150
International Attendees
CONVENTA CROSSOVER conference
THE CENTRE STAGE FOR LEADING EXPERTS IN LIVE MARKETING AND EVENT ORGANISATION
EARLY BIRD prices available until 31 May 2019. Be sure to hurry up!
Two-day conference attendance
Evening event
Coffee breaks
Lunch
One-day conference attendance
Evening event
Coffee breaks
Lunch
One-day conference attendance
Evening event
Coffee breaks
Lunch
Two-day conference attendance for 4 people from the same company
Evening event
Coffee breaks
Lunch
Kim Myhre
Managing Director of MCI UK and MCI Experience
An intersectional design thinker, thought leader, innovation activist and brand storyteller with a unique combination of strategic, creative, commercial and international experience, Kim has a strong background in strategy and planning, creative and talent management. An action-oriented executive with a track record of winning new business, creating results for clients and driving agency growth.
Mirna Ptiček
Art Director at Bruketa & Žinić & Grey
After more than 17 years of experience in design and more than a few awards for her work, Mirna Ptiček is still working to prove that there are no complicated projects. In reality, she has extensive experience in branding and visual communication systems, inclusive design workshops and social entrepreneurship design-led projects, as well as leading design contests and developing collaborative environments of all kinds. Through her work, she always tries to find the solution in a new way and hands-on. She also believes that creativity should rely on strategy, even though her creative processes sometimes look like a series of experiments which, if you look at her portfolio, seems to work quite well.
Saša Begović
Founding partner of 3LHD Architects
Born in Bjelovar, Croatia, 1967. Saša graduated from Architecture Faculty, University of Zagreb, Croatia. He founded 3LHD in 1994 together with Marko Dabrović, Tatjana Grozdanić Begović and Silvije Novak. During his career, Saša has led many of the firm's award-winning projects in various typologies — public, cultural, residential, leisure, sports, and mixed-use. He has presented 3LHD's work at universities, exhibitions, and institutions all over the world. He has been active in the academic field for the last 19 years and has been a visiting critic, workshop leader, and lecturer at various schools in Europe and U.S. such as ETH Zurich, Harvard and Northeastern University in Boston, technical universities in Vienna and Munich, among others.
Mariska Kesteloo
Entrepreneur, public speaker and founder of Word of MICE
Entrepreneur, public speaker and Past-President of Meetings Professional International in Belgium. With more than 15 years working experience in tourism and the MICE sector, she's an authority in the industry. Passionate about influencer marketing Mariska founded her company Word of MICE in 2017. Her company connects the MICE industry with the right social media influencer, to tell the story of the suppliers in an authentic, creative and fun way within the right target audience.
Juup Laarman – de Kanter
Inspirator, facilitator, trainer and co-creator of Juups
Juup Laarman – de Kanter started her career in 1998 in a communication and events agency called &Samhoud. After two years she switched to the Utrecht University of Applied Sciences where she became a lecturer. For nearly two decades she has been teaching thousands of students about creativity, concept design and meeting design. She is a trainer in lateral thinking and creative thinking techniques at De Bono Thinking Systems and De Academie voor Innovatief Trainen. Since 2017, she has been combining her work in education with her own company Juups where she offers her skills as an inspirator, facilitator, trainer and co-creator.
Manuela Šola
General manager of Komunikacijski Laboratorij
Miro Antić
Co-founder of M2Communications
Co-founder and Chief Experience Officer at M2Communications, one of the leading experiential marketing and event production agencies in the region. Since 2008 he has established several marketing and content creation companies. He is an expert in launching of premium brands and their positioning in highly competitive environments and global market as well as creator of multimedia projects and spectacular events. Miro is also the founder of NEO - New Entertainment Office, film production and creative entertainment content production company. He is a member of the Advisory Board of Austrian HR company P & P Executive Search and eminent business associations, Serbian Association of Managers (SAM) and AmCham. He supports talents in sport, arts and design.
Despina Kozarovska
Co-founder of Podium
Despina Kozarovska is Co founder at the event management agency "Podium", established in Skopje, Republic of Macedonia in 2013. Despina brings a colorful portfolio, ranging from festivals, corporate, charitable, through incentives and small scale events, giving her the opportunity to develop a keen sense for creating unique experiences. She is the initiator of the project "Skopje Street Festival" that recently won two awards at the Global Event Awards in the categories Best Cultural Event and Best Festival at the "Eventex" Conference in Sofia, Bulgaria. Despina's ever lasting drive is to pursuit her passion and redefine the event scene in North Macedonia and beyond.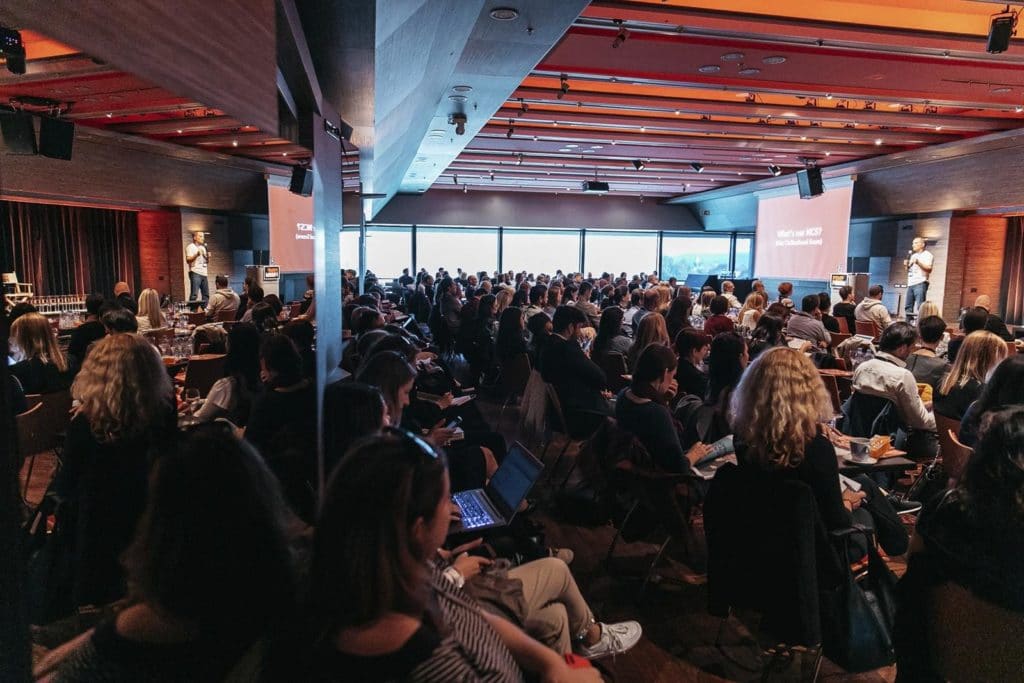 VENUE
CANKARJEV DOM, LJUBLJANA
Cankarjev Dom is a Slovenian institution, which as a cultural and congress centre presents, produces, co-produces, organises and provides cultural and artistic, congress and other events, state ceremonies, exhibitions and festivals.