Basic Event Information
Date: 14. 3. – 16. 3. 2019
Location: Terme Olimia, Slovenia
Organizer: Eventnika d. o. o.
Event type: Experiential Conference
EVENT CATEGORY: CATEGORY CROSSOVER
---
Event description and key objectives
The first edition of WoS: Inclusive Leadership, a unique blend of B2B and B2C international conference, was an innovative event designed, organized and executed by multiple individuals and organizations, that saw an exceptional potential of the Initiative to explore and evolve new leadership qualities. The 3-day conference has presented new inspirational and practical models of multidimensional (body, mind, soul) form of leadership on an individual and organizational level, that brought vitality back to our lives, work, and our organizations, in order to confront today's social challenges. The stories we shared and the qualities we discovered through a participatory, sensory experiential way opened the perspectives in individuals and teams to find and follow their spark of potential, and supported the balance and activated the synergy of community initiatives.
The conference addressed the need to develop a new attitude towards leadership in organizations and individuals, by spreading awareness of new leadership competencies and developing them. It stands as a solution for all individuals and organizations from different social spheres, both in Slovenia and abroad, who want to work towards the sustainable development of society and the planet, and are aware of their responsibilities in this regard.
The key objectives of the conference were:
To share stories, tools and practical models that can help us expand our horizons and posing better questions – to ourselves and to others.
To define, what limiting paradigms can we remove together to tap into a wider sphere of possibilities as individuals, organisations and societies towards more synergic world.
To set a foundation and an example to enable environment where diverse, (pro)creative and engaged people work really well together in ways that make things better from a bigger picture perspective.
To define ways for an individual to embody these qualities in her/himself as a leader to be more impactful change agent.
Key challenges
As the event was the first of a kind, the following key financial, organizational and content-building challenges emerged:
How to provide stable financial construction of the project, as we had limited marketing results and sales?

With an open and clear communication to the public, and a team of notable experts with wide networks and negotiating skills, we managed to provide sufficient funds mainly through sponsorships and volunteering, connecting us to like-minded organizations and individuals.

How to select and properly use a venue that was coherent to the event's design and purpose?

We defined the main design of the event as an experiential and sensoric Leadership Learning Lab, and its inseparable connection with nature, so selected a supreme business conference venue in a natural and remote location with possibility to scale up our event at hoc, and at a reasonable price.

How to present new, innovative and non-traditional content in traditional business environments in a way that will spark interest and no resistance?

We brought together highly capable and warm content builders, facilitators and speakers from all across the spectrum of our society (business, schooling system, culture, healthcare, government, art, personal development, innovation), and from different countries (Slovenia, Croatia, Switzerland, Germany, England, Malaysia, Austria, France, Serbia, Belgium), and held the space for self-initiative involvement of participants in the co-creation of the content.
Creativity
From the sole beginning, design thinking and design management was implemented into the development of WoS, by including a design expert into a core team. Graphical identity of the Initiative matched its purpose, thus also the contents and preparation of the constantly changing venue (hall(s) layout, scenography, lighting, audio, visual, special effects). The contents was divided into 4 modules (Leadership of the Future, Path from I to We, Balance for wiser Decisions, The realized Synergy), each of them supported by one of the natural elements (Fire, Air, Water, Earth), presented in the layout and scenography. Each module was composed of storytelling followed by unique workshop, Learning Lab, where participants explored, experienced and embodied previously delivered concepts, and co-created new experiences of leadership with one another and all together. We tried to gently push the participants out of their comfort zones into unknown and non-traditional, to be inspired and thus enhance one's capacity for creativity: starting with an opening ceremony with fire and dry ice performance; welcoming them into an empty hall and asking to set up their own chair wherever they feel they belong; creating a sensoric evening event outside the main hall, Path of Senses, which allowed participants a new perspective on the role of the senses for the purpose of leadership; supportive environment at all levels: ambient, facilitator leadership, graphic and audio facilitator support, subtly involved natural elements in the space.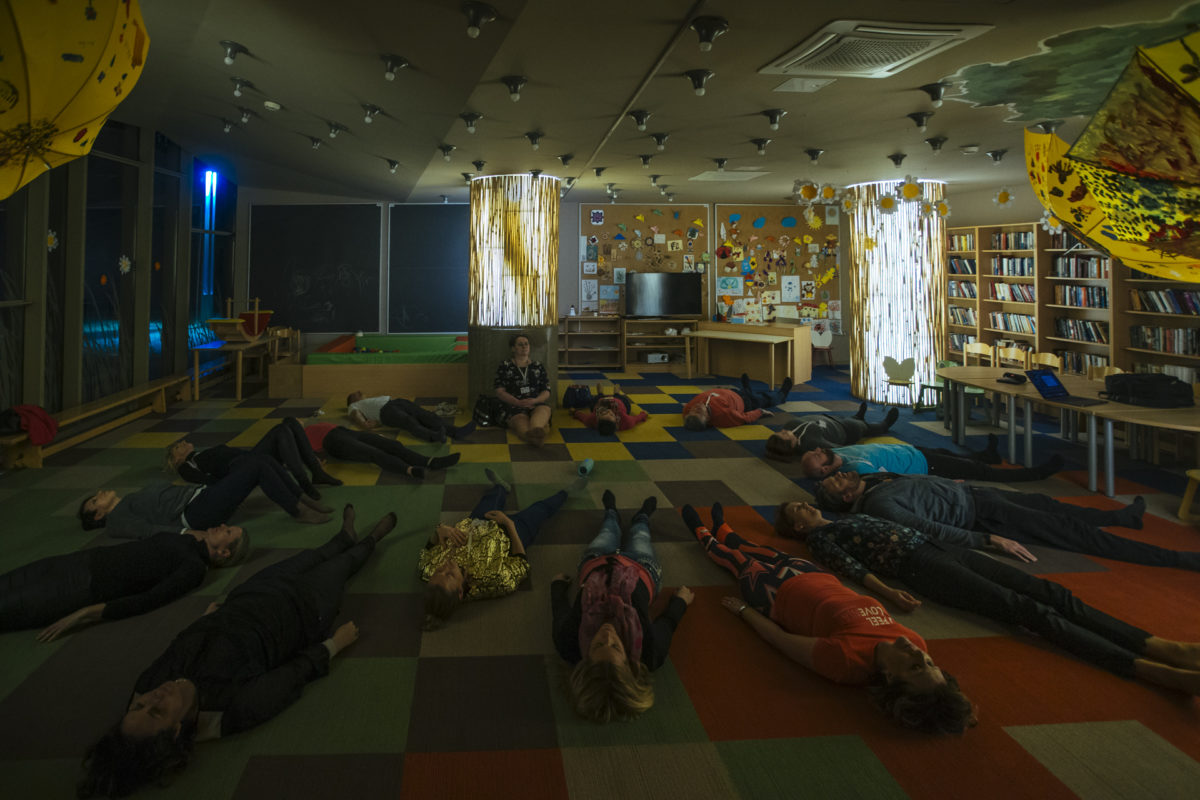 Innovation
Innovation of WoS is inseparably linked to its creativity and shows through:
FORMAT: new tools, models, principles, innovative and non-traditional ideas through subtle facilitation, also graphic and sound, storytelling and workshops, with all participants present and active.
CONTENT: new and innovative paradigms of Leadership, the most recent approaches for developing group potential and the expansion of leadership skills with a holistic approach: from rational to energetic, emotional, mental and physical (asking strong questions, active listening, non-violent communication, reinvention technique, embodied leadership, mobilizing community potentials for the development of individual initiatives).
ORGANIZATION: focusing on providing synergy all the time and on all levels with carefully choosing resources that tuned in with the concept and cause of WoS: like-minded team members, sponsors and service providers with a sense of sustainability, venue within natural atmosphere, supportive and innovative speakers.
EXECUTION: max. 250 participants for higher quality of the joint work, 4 trained facilitators who co-create a participatory experience by managing processes of mobilizing community intelligence, graphic and sound facilitator, digital guidebook, Path of Senses (an innovative experiential event within the event), experience in embodiment of new paradigms of leadership.
IMPACT: organizational innovation that can be implemented into every company for HR development, combined with clear personal growth factor for each individual participant, facilitator, speaker and organizational team member.
Execution
Project management and content-building was inseparably connected through 3 leading innovators, which later on formed a core project team of 10 members with different backgrounds (entrepreneurship, communication, economics, event organization, design, ICT etc.). Each of the members had an active role in the creative process of event design and inclusive responsibility in managing specific tasks.
For the effective execution of the tasks and the event itself a larger team of volunteers was gathered, which was lead by Eventnika. The enthusiast team expanded to 25 people who synchronized and actively took care that everything was going smoothly. The organizational team members brought in their self-initiative with executing planned tasks and their creativity with solving problems right on the spot. Synergy spread in the organizational team and among facilitators who unconditionally joined the co-creation of the conference precisely because of a noble and pure idea to do something good for the community. The logistics was managed through newsletters, separately for participants, speakers, sponsors, contractors and team.
In cooperation with Terme Olimia as a venue provider, we managed to offer our participants even more: stay at the prestigious Wellness Hotel Sotelia at a lower price, including gourmet delights and spa pampering. For the Friday evening event, The Path of Senses, they provided us with 6 different halls to host the rich and fulfilling sensory experience.
Measurable results
For the first edition, we promoted the event mainly on Slovenian market, only to a lesser extent, through established personal networks, on selected foreign markets: Croatia, Austria, Serbia, the Netherlands, England, Germany and Switzerland. Total revenue from the conference fees was 12,775 EUR, and roughly a third of that was from foreign markets. A total of over 1,000 of volunteer work hours of the content team and 1,000 hours of content and organizational teams for the implementation of the conference was delivered.
The number of participants in the room varied from 90-150, reaching 190 registered persons in total, but surprised us in the last session, when 90 people actively involved participated in a group challenge of the last evening workshop. Enthusiasm spread and a long list of concrete supportive measures for WoS 2020 was presented by the participants to the organizers. Additionally, 72% of the participants stated that they will certainly come to the next conference.
WoS was supported by 17 speakers, 6 co-creating artists, 17 sponsors, 19 partners and 1 media partner. We collected over 35,000 EUR of financial and 10,000 EUR of material sponsorships. The most vivid conference partners are Chamber of Commerce and Industry of Slovenia (CCIS/GZS), Managers' Association of Slovenia, AmCham Slovenia, The Society of abroad educated Slovenes, Slovenian Business Club from Serbia and the leading slovenian publishing house Delo, which already expressed its further support.
Communication
A brand new website worldofsynergy.com was designed and published to provide a main communication channel for the new Initiative. Rich content was (and still is) published on blog and new social networks profiles, mainly Facebook and has a flowing engagement of the visitors.
For communicating the rich contents of the conference to the participants a special digital Workbook and Guide was published. It represents an important tool for delivering contents of the conference to reality and so multiplying its impact.
The most powerful of the media involved in WoS communication is more traditional, printed media, DELO d.d., the leading slovenian publishing house, and its weekly SVET KAPITALA. They supported our conference with regular publishing of the WoS contents, presentations of our programme, speakers and sponsors, reports and comprehensive care for WoS' press coverage. They dedicated a special edition of SVET KAPITALA, that issued that very Friday, when WoS was on its high, to our conference – it was very popular among the readers. As already said, Delo has promised renewed co-operation for next WoS event.
Nevertheless, we consider viral channel for communicating the Initiative's cause, exclusivity and its ability to inspire, that one cannot miss, the most important one. In our opinion, the enthusiastic participants will provide us with an effective and most importantly authentic promotion for our World of Synergy.
The use of sustainable practices
WoS genuinely, per se, directly addresses all three pillars of sustainability, as they were all inseparably integrated into the development, organization and execution of the event and very much linked one to another. In terms of economic, the organiser experienced revenue growth, visibility, acquired new partners, and exceptional reference. The team members were all richly rewarded, although they were all non-paid volunteers (paid for stays, meals, spa and thermal baths entrance, sponsors', speakers' and participants' gifts to the team, when they saw its connectivity and pristine synergy). People broadened their personal and business networks forming new project alliances. One of the main objectives for 2020 is to bring financial sustainability for WoS.
WoS is environment friendly: unpackaged vegan and local finger food, biodegradable name tags, only non-alcoholic beverages, recycling of plastic bottles for our sponsor's (Donor) production of designer chairs, including environmentally conscious companies (Patagonia and its film Blue heart of Europe).
Although the team members were mainly strangers to each other, they formed a real, tangible synergy that shone through to everybody present. The participants experienced a change of mindset for implementing new approaches in leadership. All who have co-created the conference in any way experienced that synergy works and what can happen if you truly integrate everything. World of Synergy has become a precedent for future conferences.